At The American University of Rome (AUR), philanthropy fuels our forward progress and furthers our mission. We aim to increase scholarships, grow our campus, and provide programs that benefit our students and community. Initiatives made possible by AUR donors are touching the lives of individuals on campus and around the world.
The Fund for the 50th
When AUR began its celebrations for its 50th anniversary two years ago, little did we know that we would be ending those celebrations in the midst of a global health crisis. In order to counteract the economic implications of this crisis and continue to guarantee education for our students, we are launching a very important challenge to our community.
We have received countless messages of concern and support from the "AUR pack" around the world and we are deeply grateful to see that although in isolation, we don't stand alone. Now, we ask the pack to take action... for our students and for their fundamental right to an education, even during a crisis like this.
Donate Today
---
The AUR Annual Fund
Building a solid annual fund is key not only to AUR's financial stability, but also to supporting our efforts to build a culture of philanthropy among our community. The Annual Fund provides unrestricted financial resources to support AUR's day-to-day operations, providing infrastructure and support services that are vital to student success.
Technology and Student Support Fund
Because of the coronavirus emergency in Italy, many AUR students have been displaced, either because they were recalled by their home institutions (as is the case with all visiting students), because of the closure mandated by the Italian government, or because of travel or health-related restrictions. In order to ensure that all students maintain their needed credit load and to guarantee that our seniors graduate in May, AUR has instituted remote learning opportunities. This necessity has led to increased expenses such as equipment purchases, increased training, subscriptions to online services, as well as the need for classroom assistants (for which we hope to hire our own students).
While this fund will address urgent current needs and allow us to provide high quality remote learning, we are also using this as an opportunity to secure important resources for the future, ensuring that our entire community can be prepared to work digitally, if necessary, while also providing useful and cutting-edge technological tools for our university.
Faculty and Program Development
Donations designated for this fund will support various efforts that directly impact academic programming at AUR, including funds for faculty, an internship fund for students, academic lectures and field trips, and more. If you are uncertain about which program to support, we will work with you to find the right fit for your contribution.
The James Walston Fund
The James Walston Fund was launched by alumnae Sallie Pisch (International Relations, 2010) and Caitlin Bagby (International Relations, 2009) in May 2014 following the premature passing of Professor James Walston. Walston taught at AUR for a quarter of a century and was one of its most beloved professors, providing his students with fascinating classes and real-world experiences, always combined with habitually gentle wisdom.
This fund supports initiatives in his memory, including student support, travel, and lectures.
Scholarships
During the 50th year, AUR is seeking to significantly grow externally-funded scholarships in order to assist students who wish to pursue an undergraduate or graduate degree at AUR. Our priorities in this area are to expand the Rula Jebreal Scholarship Fund and to create new scholarship funds that respond to the needs of prospective students and further our institutional mission.
Rula Jebreal Scholarship Fund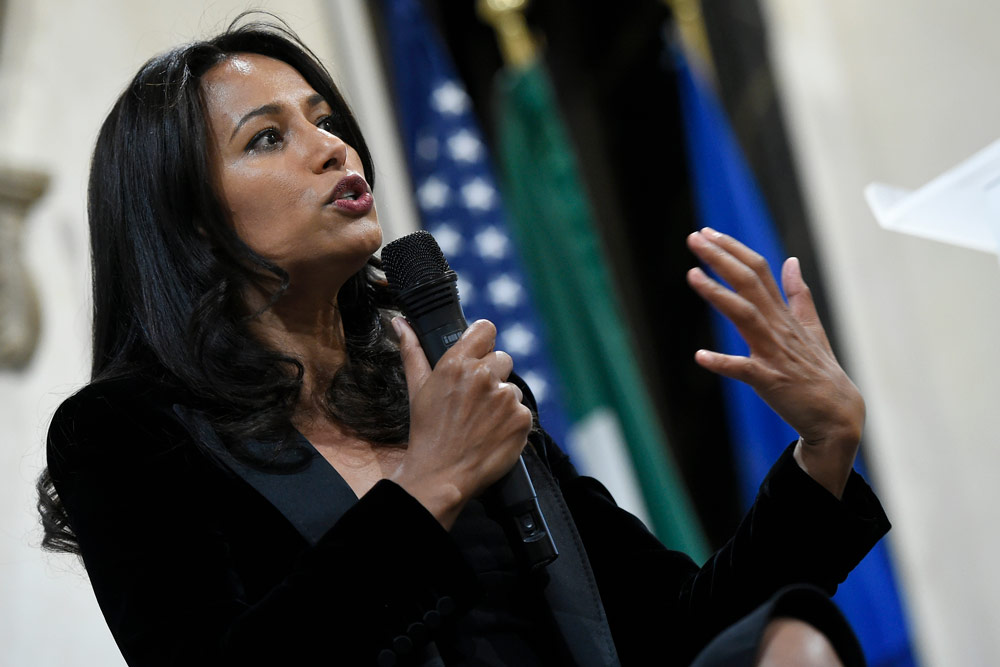 In a world facing an unprecedented number of ideological, political, and humanitarian crises, educational institutions have a vital role to play in helping to realize the hopes for a better tomorrow. With awareness and appreciation of the power of education in shaping a brighter future for the next generation, The American University of Rome (AUR) is dedicated to developing initiatives that directly address the global migration crisis, of which Italy is one of the most affected countries.
The American University of Rome's Rula Jebreal Scholarship Fund was established in 2015 with the objective of providing an American education to young men and women from conflict-torn countries around the world. Together with award-winning journalist, author, foreign policy analyst and AUR Visiting Professor Rula Jebreal, AUR successfully launched the program. Ms. Jebreal's invaluable collaboration has since grown to provide support for seven students from Syria, Swaziland, and Egypt.
AUR shares with Ms. Jebreal a dedication to providing young people with life-changing opportunities through education. Her energy and commitment to this scholarship initiative are rooted in her own personal experience of being "saved by a scholarship" as a young woman. Rula states: "I always felt […] an obligation to extend that same opportunity to others".  Her leadership, along with the generous support of committed donors, have helped make a difference in the lives of the students who have received funding for their academic careers at AUR.
To honor Rula's tireless commitment to this initiative, AUR has named the fund The Rula Jebreal Scholarship Fund. We aim to use the occasion of our 50th Anniversary year to expand the fund so we may continue to provide much-needed resources to dedicated students who have had to flee their home countries due to conflict. Supporting the Fund means playing an active role in asserting the mission of the American University of Rome, not only in preparing students to live and work across cultures but allowing these young minds to reclaim their right to an education, and to realize their professional aspirations.
The Rula Jebreal Scholarship Fund supports students from conflict-torn countries by offering full tuition, housing, and academic resources. Based on students' needs and availability of funds, scholarships can also include psychological support and a moderate monthly living stipend. Scholarship recipients receive funding for their full academic career at AUR and are not required to re-apply for the scholarship each year.
Richard Hodges Presidential Scholars Fund
Heritage is our legacy from the past, what we live with today, and what we pass on to future generations, and once again, Italy is at the center of history.  AUR's opportunity is to prepare students to be skilled, independent and international citizens of a fast-changing interconnected world. Learning from the past and looking toward the future, AUR students graduate with the right combination of communication and critical thinking skills, hallmarks of the liberal arts education, which are essential attributes for resolving major global challenges of the present.
- Dr. Richard Hodges OBE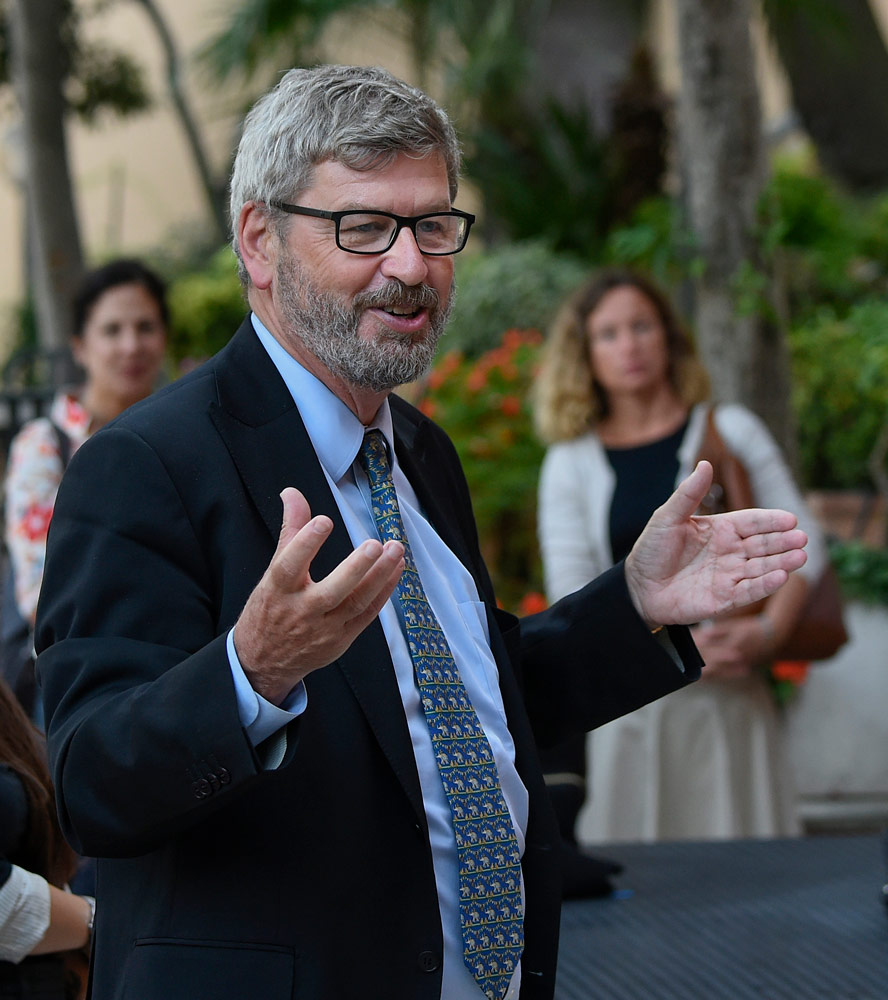 In advance of President Hodges' retirement in the summer of 2020, and in honor of his long-standing dedication to AUR, the Presidential Scholars Fund will support high-achieving students with financial need.
Since taking office in 2012, Dr. Hodges' has worked tirelessly to promote AUR as a forward-thinking 21st century liberal arts institution that offers students the opportunity to learn and grow as part of a vibrant international community, empowering them to realize their potential and achieve their dreams. His awareness of the power of education in shaping a better world, his love for Italy and his distinguished career as an archaeologist and scholar have made his leadership of AUR both strategic and visionary, positioning AUR as a major player in the milieu of American higher education in Italy.
The Fund will support tuition and housing, based on need, for the duration of the student's academic career. Scholarships will be awarded and/or renewed each year based on student eligibility, demand and availability of funds. Presidential Scholars must demonstrate and maintain excellent academic standing (3.5 GPA or higher), exhibit an inquisitive character, and play an active role within the AUR community.
 
Italian Excellence Scholarship Fund
Since private American university education is a considerable financial commitment that not many Italian families can sustain, AUR has launched a scholarship fund that will support outstanding Italian students who wish to pursue an American education without having to leave Italy.
Proud to call Rome its home, AUR has since its inception been invested in the promotion of a multicultural approach to education, starting by drawing from the best of the Italian and American approaches to higher education.
The Italian Excellence Scholarship will support Italian citizens with a maturità score of 85 and above. The scholarship will be awarded annually, and the amount will be defined based on the consideration of ISEE (Equivalent Economic Situation Indicator) documentation provided by the student, from criteria obtained from the Admissions portfolio and the scholarship application. Scholarships will be awarded and/or renewed each year based on demand, student eligibility and availability of funds. Recipients of the Italian Excellence Scholarship must demonstrate and maintain excellent academic standing (3.5 GPA or higher), exhibit an inquisitive character, and play an active role within the AUR community.
 
Emergency Relief Scholarship Fund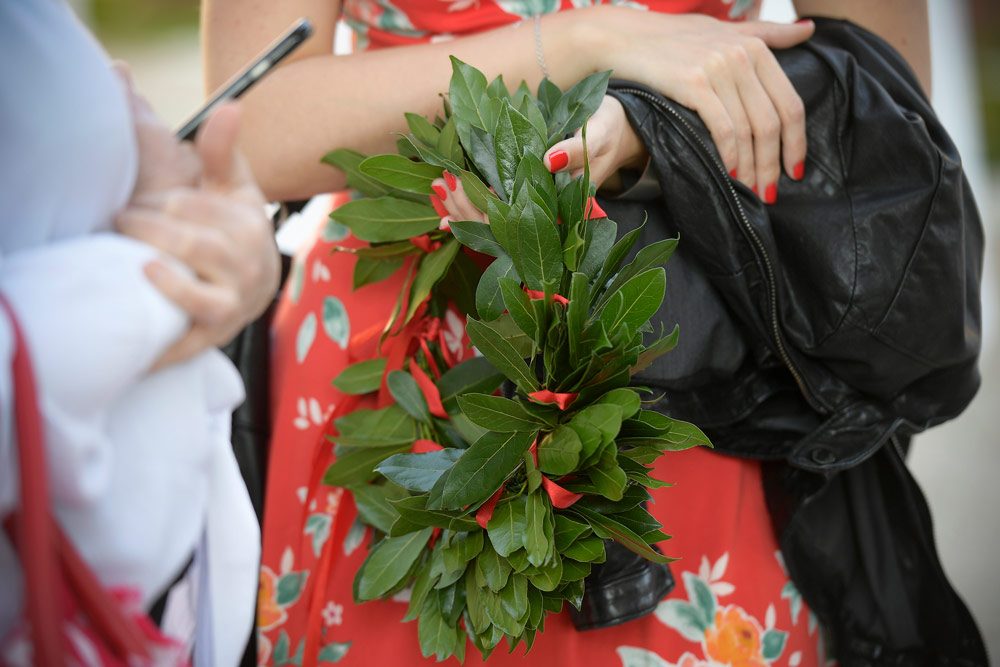 AUR understands that a student's circumstances can change suddenly and drastically due to situations beyond their control. For this reason, AUR is creating a scholarship fund that will aid returning AUR students who find themselves faced with unforeseen adversities that jeopardize the continuation and completion of their studies. Dedicated to our students' success, we work towards granting our students the necessary tools to successfully overcome academic, professional and personal "roadblocks". Supporting AUR's Emergency Relief Scholarship Fund not only helps us advance our institutional mission but also ensures that at-risk students are able to graduate with their peers upon completion of their studies.
The Fund will support students in their tuition payments, based on need. The amount students receive will vary depending on their temporary financial needs. The Emergency Relief Scholarship is not renewed automatically from one academic year to the next, therefore students must reapply if they still require financial support. Scholarships will be awarded and/or renewed each year based on student eligibility, demand and availability of funds. Recipients of Emergency Relief Scholarships must demonstrate and maintain good academic standing (3.0 GPA or higher).
 
Named scholarships 
AUR also offers named scholarship opportunities. Scholarships starting at $10,000 per year can be named by the donor (after themselves or in honor/memory of someone else). If you would like more information, please contact Federica Mazzarelli (f.mazzarelli@aur.edu) in the Development Office.
Current named scholarships include the Fletcher Memorial Bursary (for a qualified student from Palestine); the Michael D'Angelo Scholarship for Fine Arts; the Sons of Italy Scholarship and the Tiro A Segno Scholarship (both for qualified Italian-American Students). Additionally, several of our Refugee and Displaced scholarships are generously funded in their entirety through individual donations.
---
If you have any questions or wish to know more about the Fund for the 50th, contact Federica Mazzarelli (f.mazzarelli@aur.edu).  
The American University of Rome is registered as a not-for-profit organization in the United States, and is exempt from tax under section 501(c)(3) of the Internal Revenue Code and qualifies for the maximum charitable contribution deduction by donors.
---