The AUR Running Club is an informal club which meets regularly in the Garden at prearranged times to run together at Villa Pamphili…or along the Tiber…or at any of the other beautiful and scenic spots in Rome.
Each semester the AUR Running Club holds a meeting to decide dates and times for group runs that take place in addiition to runs that take place on a regular basis starting from the AUR Garden.  The routes go through AUR's local parks and neighborhoods as well as venturing out into other areas of Rome so that students can combine their love for running with explorations of the Eternal City.  
For more info, get in touch with Stefano Cristalli in Student Life or join us on our (private) Facebook group.
AUR runners can also join our local Roman running club, A.S.D. Roma Road Runners Club, in their regular runs through the Parco degli Acquedotti and other Roman running routes.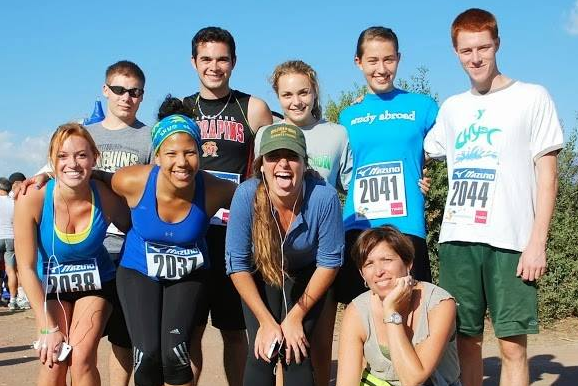 Founded over 20 years ago and now with more than 250 local Roman members, the club offers plenty of opportunity to join in on informal runs throughout the week and weekend.  The club organizes seven races every year, including their Un'Americana a Roma held every October.  Roma Road Runners also participate in many, many official races in and around Rome, as well as occasional races in other parts of Italy. Races include 5k, 10k and 12k races, as well as half and full marathons, including the Rome Marathon held every March through the historic center.  RRRC members also participate in races held in other countries – for example, the 2012 half marathon in Prague.
AUR members of the A.S.D. Roma Road Runners Club will benefit as well from the authentic contact with local Italians while enjoying a healthy pastime together. In addition to the camaraderie enjoyed by the group, RRRC membership offers technical advice and support from experienced runners for both those looking to simply jog and those who are very serious about improving or maintaining their running skills.  The club has a president, 3 VP's, a treasurer, an advisory council of 10, and offices nearby the Appia Antica.  And while our students are highly encouraged to Just say it! in Italian to their Roman running mates, the Roma Road Runners do have officers and members fluent in English.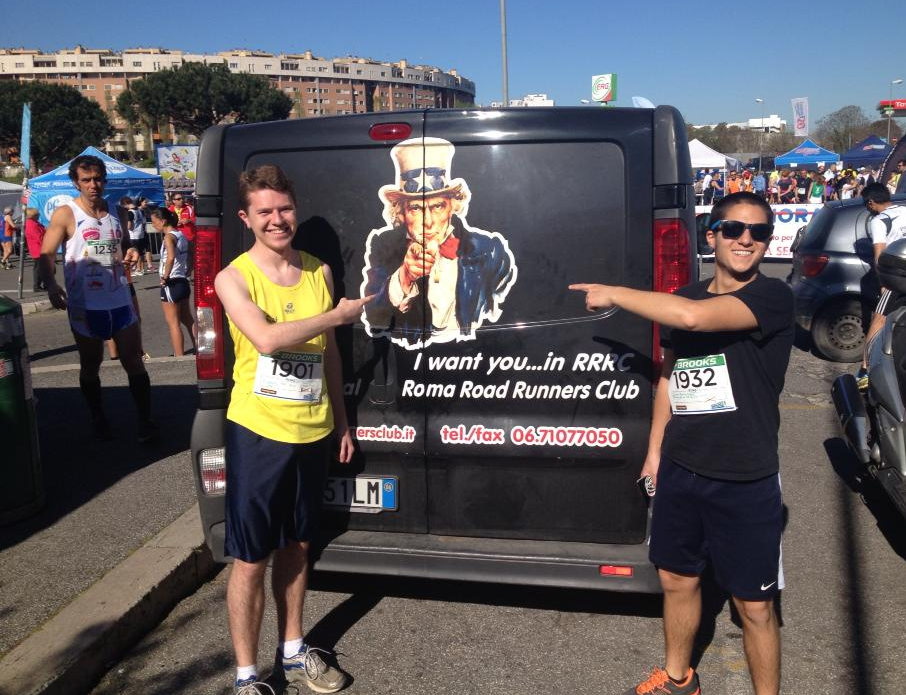 The achievements of the AUR alumni who have participated in this group include outstanding performances in the Rome Marathon and the RomaOstia Half Marathon. 
Official membership with the RRRC qualifies students to participate in official races in Italy and Europe.  Students interested in joining the ASD Roma Road Runners Club should contact Stefano Cristalli for more information.
"In terms of personal growth, my most important learning experience at AUR was) being a part of the running club and participating in races."
Leah Scully, Study Abroad (High Point University), Spring 2014
"Student life was so helpful with me participating in the Roma Road Runners Club.  The races I was able to run were among my favorite experiences here!…The running club was great! I wasn't able to make it to many of the group runs, but I was able to run in three different races with the Roma Road Runners. Those three races were great for interacting with Italians and getting a taste of real life in Rome!"
Natalie Burns, Study Abroad (Roberts Wesleyan College), Spring 2014
"Running in Rome was a truly amazing and wonderful experience. The best part was that I could run to all of the main tourist sites in Rome from The American University of Rome. It is roughly 0.5km to Villa Doria Pamphili, 3km to the Vatican, 3.75km to Circo Massimo (Circus Maximus), and only 4 Km to The Colosseum. The best place to run in Rome, however, has to be running on the Appia Antica, the oldest Roman Road which is about 5km from the University. The Appia is a long, flat, and straight road with little to no traffic. While running on the Appia, I did not have to worry about cars flying past me or pedestrians getting in my way. I only had to worry about the cobblestone which were not an issue. Apart from the great places to run, the fellow runners in Rome are wonderful. I had the privilege of joining the Roma Road Runners Running Club. Running races in Rome are very different than races here in the States. In order to run in races individuals must have a 'Tessera' which is issued by a running club stating that you are healthy enough to compete. Running races in Rome are set up almost like Cross Country or Track meets where teams (clubs) have tents and athletes report to their club to pick up their race packet. Many people participate in these races and it was great being able to converse with local Italians in both English and Italian. Overall, running in and around Rome was a true privilege and I was thrilled at having the opportunity to run with the Roma Road Runners Running Club. Always remember, 'Keep Running'!"
Eric W. Johnson, Study Abroad (UWP), Spring 2012