AUR honors the memory of its late Professor, James Walston, with a lecture titled "What Is Democracy without Human Rights or the Rule of Law?" Dr. Lyal S. Sunga, Visiting Professor at the Raoul Wallenberg Institute of Human Rights and Humanitarian Law in Lund, Sweden
Lyal S. Sunga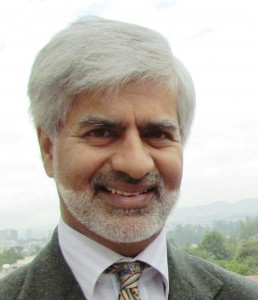 Lyal S. Sunga, is Visiting Professor at the Raoul Wallenberg Institute of Human Rights and Humanitarian Law in Lund, Sweden, former Head, Rule of Law program at The Hague Institute for Global Justice in The Netherlands, and former Special Advisor on Human Rights and Humanitarian Law at the International Development Law Organization in Rome, Italy. He holds a Bachelor of Arts (Carleton), Bachelor of Laws (Osgoode Hall Law School), Master of Laws in International Human Rights Law (Essex) and PhD in International Law (The Graduate Institute of International Studies). An internationally recognized specialist in international human rights law, international humanitarian law and international criminal law, Sunga has given presentations, university courses, lectures, training and conducted human rights technical assistance as an academic and practitioner in some 55 countries over the last 25 years.
From 1994-2001, he was Human Rights Officer at the UN Office of the High Commissioner for Human Rights in Geneva in which capacity he first investigated facts and responsibilities relating to the 1994 genocide in Rwanda for the UN Security Council's Commission of Experts on Rwanda, and then backstopped the UN Human Rights Field Operation in Rwanda for several years before taking up the role of Coordinator for the Asia-Pacific Team in the Special Procedures Branch. In 1998, he served as OHCHR's representative to the Rome Conference on the Establishment of a Permanent International Criminal Court. He dealt with UN mandates on human rights defenders, counter-terrorism and human rights, administration of criminal justice, the situation in Iran and certain other countries, and many other issues relating to serious violations of human rights, humanitarian law and international criminal law. In 2000, he served as Secretary of the Asian regional preparatory conference in Teheran leading to the 2001 World Conference on Racism held in Durban, South Africa.
From 2001 to 2005, Sunga was Associate Professor and Director of the Masters of Laws in Human Rights, Hong Kong Faculty of Law, China, and he subsequently taught international human rights and other law courses at the Lund Faculty of Law in Sweden, in Azerbaijan for the Young Lawyers' Union, at Peking University Law School, at Padjadjaran University Faculty of Law in Bandung, Indonesia, at the University of Geneva Faculty of Law, the University of Helsinki Faculty of Law, and at Carleton University (Ottawa) and McGill University (Montreal). He is the author of Individual Responsibility in International for Serious Human Rights Violations (1992) and The Emerging System of International Criminal Law: Developments in Codification and Implementation (1997), and of some 40 book sections and law journal articles on such issues as the use of force in international relations, humanitarian intervention, truth commissions and national reconciliation, human security, techniques of human rights monitoring, investigation and reporting, the Geneva Conventions, the ICTY, ICTR and ICC. For more information, downloadable publications and media appearances, visit his website.
In 2007, Dr. Sunga served as Coordinator for the UN Human Rights Council's Group of Experts on Darfur. He has worked or consulted for the UN Security Council, UNOHCHR, UNDP, UNDEF, UNESCO, UNU, UNHCR, UNITAR, UNODC, ILO, EU, IDLO, Swiss Development Cooperation, and National Human Rights Commissions in Bangladesh, Ethiopia, Nepal, Nigeria, the Russian Federation and Uganda.