The auditorium was at capacity as the AUR community welcomed back Ms. Francesca Forte, Marketing Manager of Alitalia. Ms. Forte presented the repositioning efforts of Alitalia. Alitalia designed their repositioning campaign after research revealed a "love-hate" relationship with its clients and the lecture began with a comparison between brand awareness and brand appreciation of Italy, as a country, and of Alitalia, as an Italian airline. Research results revealed that the "Italy" brand scored much higher than the Alitalia brand, leading Alitalia to ensure that the "Made in Italy" association was at the core of the new brand campaign.
 
Ms. Forte went on to discuss how Alitalia needed to reposition the airline to remind consumers of its strong association with Italian style, quality and culture. The set of familiar values that represent Italy, such as beauty, creativity, passion and hospitality was used in the new Alitalia campaign. 
 
Alitalia realized they needed a new slogan to anchor the campaign, one that represented the Alitalia spirit, as well as a communication format and a breakthrough media plan. The new "Made of Italy" campaign launched in May 2016, with a focus on the authentic Italian nature of the airline and an aim to raise brand awareness. 
 
To revamp Alitalia's brand image, new elegant uniforms were designed, the first in 25 years. The new slogan, "Vivi, Ama,Vola"  meaning 'live, love, fly' was designed to create an emotional bond with the airline and the country of Italy itself. Ad agency creatives focused on collaborations with a wide array of products and services that represented the best Italy has to offer - from the Illy coffee offered in its airport lounges to the Cantine Ferrari spumante served on board and the Poltrona Frau-designed furniture featured in the overhauled Alitalia lounges.
 
The fascinating lecture sparked interest not only in those interested in the travel and airline industry. Students were engaged and intrigued throughout Ms. Forte's talk, some remained and gathered after to inquire further about the Alitalia brand.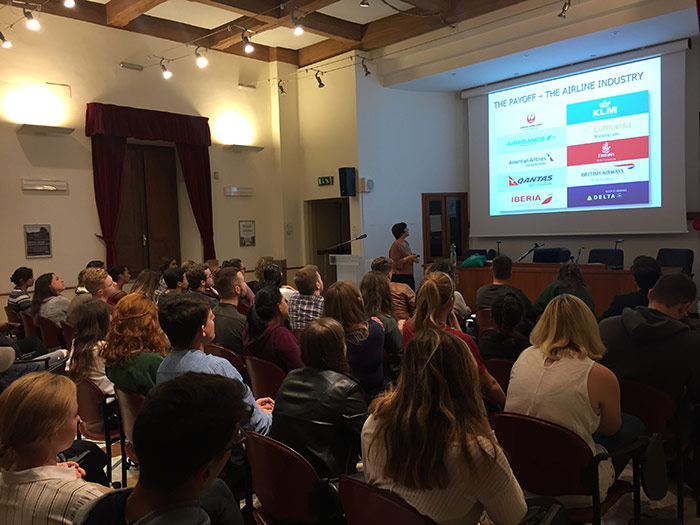 The Forte lecture was the first in the Fall series of Business Leader Lectures.  Next up is AUR Alumnus Bronwyn Sweeney, who on Oct 18, will talk about "A Day in the Life of an Advertising Copywriter."  Don't miss it!
 
[Author: Noy Dragushansky, Business Administration student].