This screening will be in Italian with English subtitles. There will be a Q&A with the director, Margherita Ferri, after the screening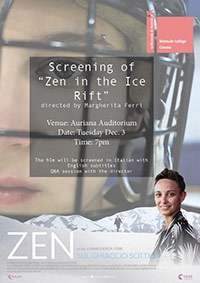 DIRECTOR: Margherita Ferri
2018 | Italy | 87m
GENRE: Coming Out | Drama | Queer | Sports | Transgender | Youth (18 & Under)
.....................................................................................
Teenage hockey standout Maia adamantly prefers to be called Zen. Sporting androgynous looks, Zen is quick and cunning on the rink, even competing on the boys' team. Off the ice, though, Zen stays on the defensive, creating a well-maintained barrier to avoid the ever-growing onslaught of bullying coming from the small-town, small-minded kids who share their snowy mountain village. But when the team captain's girlfriend Vanessa takes refuge in Zen's family lodge, Zen—reluctantly at first—finds the ice walls beginning to break, and shared confidences soon lead to much more.
Set against the stunning backdrop of Italy's Apennine range, Zen in the Ice Rift is writer-director Margherita Ferri's sensitively told, beautifully photographed debut feature, providing time and space for her young protagonists to gingerly open doors of gender and sexual exploration. Anchored by an exquisite, emotionally candid performance by newcomer Eleonora Conti as Zen, the film is far more than a "coming-of-age" drama—it reveals a complex person in their first thaw, coming unto themselves.
.....................................................................................
Director and screenwriter, Margherita Ferri, studied at UCLA and Centro Sperimentale, National School of Cinema, Rome. Her documentaries and narrative short films have been screened in many international film festivals. In the past ten years she has worked in documentary TV productions, first as a camera operator and then as a director. She is one of the creators and directors of STATUS - the web series, produced by Milano Film Festival and later awarded in web fests both in Italy and abroad. She won special mentions the screenwriting contests Premio Solinas and Premio Tonino Guerra. In 2016 she wrote a branded content docu-series for Arabic network MBC about women who make a difference in the Arab world. In 2017/18 she took part in Biennale College Cinema program and her first feature film, "Zen in the ice rift" won the final grant and was produced by Biennale di Venezia and Articolture. It premiered at 75° Mostra del Cinema di Venezia in 2018 then screened at many international festivals and it was distributed by Istituto Luce. She was nominated as Best Emerging Director at Nastri D'argento 2019. She wrote the thriller/horror feature film "The Nest", directed by Roberto De Feo, produced by Colorado Film and distributed by Vision and Universal. The film premiered at Locarno Film Festival in 2019.
Register your attendance at Forthcoming AUR events