There are many opportunities to study abroad while you are studying at AUR. We have several direct exchange partners. You pay AUR tuition and can study at these institutions for either a semester or a summer session.
Options include:
* For the Emory Honors Exchange only, please contact Professor Fitzsimmons.
k.fitzsimmons@aur.edu
Through the AAICU Direct Educational Exchange Program (AAICU-DEEP) (Association of American International Colleges and Universities) students can apply to study abroad for a semester at:
---
Student Experiences
We know that studying abroad is one of the most rewarding and enriching experiences that a student can take on. While the prospect of leaving your comfort zone to live and study in a new environment is undoubtedly daunting, our students who undertake a study abroad experience return to us with broader horizons and a fresh take on their degree program.
London & Atlanta
In the Spring semester of 2019. Communication major Rachel Wertz and Business Administration major Maria Gatti flew the AUR campus for a semester studying abroad, Rachel at the University of Westminster, London, and Maria at Emory University, Atlantan, Georgia. We caught up with Rachel and Maria upon their return to Rome to discuss their AURA experience.
New York City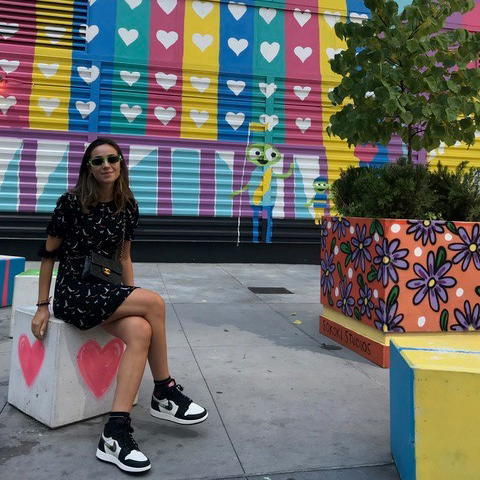 For the Fall 2019 semester, Business Administration student Isotta Giorgini crossed the Atlantic for a study abroad experience in New York City, with LIM College as her host institution. Reflecting on her experience, she said
Living in NYC has given me the opportunity to approach life differently, to adapt to different situations, and to be more motivated in achieving my goals, both personal and academic.
Click here to read her feature in full.
---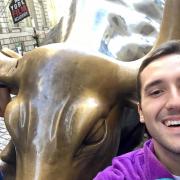 Isotta was joined in New York City by another Business Administration student, Giammarco Caccese. He too placed a high value on the experience, saying:
The best part of New York is that it is such a huge and continuously evolving city that there is always the possibility to see, try, or visit something new. In addition, its diversity always makes you feel at home.
You can read his interview here.
---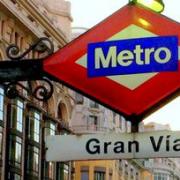 International Relations & Global Politics student Giulia Torchio chose the Madrid campus of Saint Louis University for her study abroad semester. She felt that studying abroad would be particularly beneficial given the international outlook of her degree: 
I thought it could be interesting to study abroad the first semester of my Senior year of college, so once I'm back for my Capstone project I will have developed a broader perspective and learned more about a new culture.
To read about Giulia's study abroad experience, click here.
---
  Business Administration student Sara Morigi spent the Fall semester of 2019 studying at Emory University in Atlanta, Georgia, USA.
Studying at Emory has certainly expanded my understanding of the US, its people, socioeconomic system and ambitions. I have also had the chance to meet international students from all over the world.
  Click here to read Sara's take on the study abroad experience.
---
AAICU is a leadership organization of American international universities, whose members provide responsible delivery and quality assurance of American higher education outside the United States. Under the approved agreement, undergraduate students at one of the member institutions can study at any of the other campuses of AAICU. Students in the exchange program pay tuition to their home institution, but are responsible for all other costs related to housing, transportation, and fees at the host institution. In addition, students applying must get approval for courses to be taken prior to the semester abroad from their program chair to ensure the proper alignment with GE and major program requirements. All AAIUCU institutions have academic programs based on the American liberal arts model, and transferability of credits between AAICU institutions is guaranteed.
The AAICU-DEEP provides students with opportunities for international and intercultural perspectives through student exchanges, resulting in the awareness of the economic, social and cultural issues in the regions of the world which they are located. Students can apply to the university they wish to study, as a visiting student or study abroad student.
To be eligible for AURA you must have Junior Status ( i.e. have completed 60 credits) and a GPA of 3.0.
An approved Study Abroad semester meets the "Alternative Educational Experience" Requirement of AUR's General Education Program.
Students are not allowed to take core courses in their major during their Study Abroad semester, but can complete any of the other requirements with the approval of their academic advisor.
AUR's deadline for applications to study abroad is October 1st for Spring AURA, and March 1st for Fall AURA. All courses taken as part of AURA transfer as pass/fail, with the exception of Emory AURA. A Pass is C and above. C- or lower is a Fail.
The Next Step:
Speak first to the Registrar (z.desmet@aur.edu) and then with your academic advisor about how the AURA Program can help you achieve your academic goals and how to go about gathering the information necessary to allow you to study abroad at your chosen university.
Administrative fee for AURA:
€300 for summer session
€500 for the semester
Independent Study Abroad
AUR students can also apply directly to study abroad at regionally accredited American universities or national universities recognized by the country's higher education system.