AUR's B.A. English Writing, Literature, and Publishing program has been designed to help students find their narrative voice and thus create a unique tool that will enable them to develop and contribute wherever creative writing, reporting, and storytelling are required, in fiction and nonfiction settings. The Bachelor Degree in English Writing, Literature, and Publishing is a major that allows students to explore how language and narrative construct the world around us.
Why study English Writing, Literature, and Publishing at AUR
Storytelling is everywhere
Storytelling is much more than lowbrow entertainment or highbrow literature. Our entire social world revolves around storytelling, and we have become more and more aware of this fact not only in the arts, but also in economics, politics, and daily life.
A complete package
In the English Writing, Literature, and Publishing program all three aspects come together to help students find their voice, refine their talent, and gain the skills and knowledge needed to succeed in the world of writing and publishing.
Unlimited career pathways
With a focus on writing and literature, students can go on to pursue graduate work in literary studies or an MFA in writing. They are also taught web design and technological skills to be competitive in the world of journalism and magazine publishing. Our creative writing track allows students who want to write to pursue their literary, as well as journalistic talents.
Off-campus classes per year
Academic field trips per year
Countries in our global alumni network
In the words of a recent graduate ...
Thank you for all the opportunities you gave me to work on Remus and create a website-podcast-writing thesis. I couldn't have known then, but all the experience I got from interviewing Valeria at the IAPP, managing a long-term project like Remus and our FB page, and incorporating website development with writing and podcasting was exposure and practice that I use every day for my job. I just can't thank you enough for all of the chances you gave me to manage or explore so many things as an EWLP major.
Hannah Clark (Class of 2019)
English Writing, Literature, and Publishing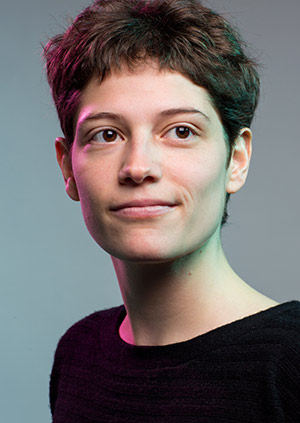 From Rome to New York: Alessandra Potenza's degree has taken her around the world.
Alessandra, born and raised in Rome, elected to go to the American University of Rome because she wanted to continue to improve her English speaking and writing skills.
While at AUR, Alessandra took several creative writing classes with Professor Elizabeth Geoghegan. "These classes really provided me with the time and space to develop artistically and improve my writing in English," says Alessandra, who graduated from AUR in 2011. Not only was Professor Geoghegan a life-changing teacher, but she also served as a mentor, "Professor Geoghegan taught me to let myself go and be creative and also to get inspiration from the city around me," recalls Alessandra.
Today, Alessandra lives in New York City where she is a science reporter and editor at The Verge, a news website that covers tech, science, and culture. "I owe my journalism career to AUR," she says. "AUR is just a microcosm of the world. Study here and you'll be better prepared to live and work in the world of tomorrow."
Visit the official blog of the English Writing, Literature, and Publishing program - home to Remus, the university's literary & arts magazine.
Beyond the traditional: interdisciplinary and explorative
Alongside the pursuit of more traditional elements relating to language and literature, undergraduates may hone their skills in contemporary fields relating to the discipline; for example, core courses in British and American literature are paired with an elective in print graphics or podcasting. They are also taught web design and technology skills to be competitive in the world of journalism and magazine publishing. For students who want to write, we have a creative writing concentration that allows them to pursue their literary talents, as well as their journalistic talents.
In keeping with our interdisciplinary approach, we encourage diversity in the choice of courses, including electives outside of students' main program of study. Students, therefore, have the opportunity to explore other realms of the humanities, from Communication to Classics, Business to Film, and in doing so learn to appreciate diverse perspectives on their studies and approach their degree with a broader skillset.
Out of the classroom and off-campus
Various courses within English Writing, Literature, and Publishing, (often in partnership with the program in Communications & Digital Media) offer students the opportunity to visit a variety of publishing and media production sites and events in and around Rome. Recent off-site study trips have included the Cinecittà Film Studios, the newspapers La Repubblica, Il Messaggero, and Il Fatto Quotidiano, ANSA news agency, the Rome offices of the Associated Press, the RAI TV studios, the Journalism Festival in Perugia, TEDxRome, etc. Students learn directly from the professionals who manage and work within these industries.
Career destinations
Writing, literature, and publishing - as a combination, these subjects open a myriad of career opportunities. We tell stories about products (marketing and advertising), the state or future of the countries where we live (elections, speeches, rhetoric, legislation, supreme court decisions), peace and conflict (civilizations and their discontents, negotiations, press conferences), the past and the present (history, news, memoirs), and even ourselves and other people (Facebook, resumes, Twitter, opinion polls). We also tell stories to entertain, teach, inform and enrich the lives of others. This program is designed to address all aspects of this multifaceted discipline and is genre neutral - for the poets, the playwrights, the speechwriters, the journalists, the romantics, the thrillers, the copywriters, and the legislators.
Alyson S. - 2017
Copywriter & Journalist. Chicago.
Ged R. - 2013
Digital Content Manager. Milan.
Simon Q. 2020
Graduate Studies. USA.
'Franki' D. - 2019
Working on her first novel. Rome.
Andy L. - 2019
Studying Law. New York.
Alex S. - 2016
Political speechwriter. USA.
Survey of British Literature I & II
Survey of American Literature
Transmedia Storytelling
Literary Editing and Publishing
Poetry OR Drama OR Fiction: Genre, Techniques, and Structure
Digital Design: Print Graphics
Podcasting and Vidcasting
Capstone Senior Project
Writing for Business
Principles and Practice of Journalism
Sportswriting
Magazine Journalism Practicum
Adapting Literature to the Screen
Writing Rome
Creative Non-Fiction Writing
Writing the Mediterranean
Advanced Concepts in Fiction Writing and Criticism
Writing Fiction for Children and Young Adults
Selected English Writing, Literature, and Publishing course details
CREATIVE WRITING
This course explores the creative process, giving students concrete ways to enhance their creative thought and writing. Through writing assignments and numerous inventive classroom exercises, students learn how to write more interesting characters, fascinating plots, and colorful stories.
POETRY: GENRE, TECHNIQUES, AND STRUCTURE
Students will not only be guided through the inspiring world of poetry but they will also be steered towards a deeper and more insightful analysis of its purpose.
A MOVEABLE FEAST: WRITING ABOUT FOOD
This course will examine food writing in its various professional forms and will instruct students in approaches to writing about food for publications.
WRITING FICTION FOR CHILDREN AND YOUNG ADULTS
The course will focus on the writing process and the approaches to writing for various age groups within the genre, specifically examining story structure, character, plot, and theme.
LITERATURE AND RACE
Students will understand the (often contradictory and controversial) ways in which literature tackles crucial ethical, social, or political issues with its unique tools and methods, and how it impacts, and is impacted by, its socio-cultural environment.
TRAVEL WRITING
This workshop instructs students in the mechanics of travel writing from research, interviewing techniques, and pitching editors to crafting essays and articles for newspapers, magazines, books, and the internet.
Outstanding Faculty
AUR's English Writing, Literature, and Publishing faculty includes talented, award-winning, authors covering the spectrum of genres - from children's books to travel writing and from autobiographers to novelists, poets, and journalists.
Few programs can boast such an international and experienced faculty, each of them dedicated to bringing the very best out of their students.
Lisa's teaching interests include courses in Modernism, Satire and the Comic Form, the Literature of the Grand Tour, Literary Responses to War, as well as surveys of Anglo-American literature. Her writing courses draw on her background in composition theory and an interest in the art of the popular essay, which includes such topics as food, travel, and culture.
Professor Pacor's research interests focus on modern and contemporary American literature and culture. He is interested in the intersection between subjectivity, national identity, and life-writing. His research explores how individuals frame their own subjectivity in relation to sovereign power, organized in a global system of nation-states.
Professor di Robilant is an international journalist, author, and (amongst other things) perfume designer. After many years spent reporting from the US, Italy, Mexico, Central America, Colombia, Ecuador, Peru, Bolivia, Chile, Brazil, and Argentina Professor di Robilant settled down to life as a full-time author and professor. His latest novel Autumn in Venice was chosen by the Today Show as one of their top-five Spring reads.
Course requirements and further detail
For more in-depth information about this program and individual course requirements, please see our full catalog.