If a picture paints a thousand words, then Rome is an eternal story waiting to be read.
Why Study Art History at AUR?
The Art History program at The American University of Rome offers its students exceptional opportunities to study artistic and cultural legacy of Rome and Italy, and relate the riches of art from the previous epochs to the contemporary, global art world.
From the Roman Forum and the Sistine Chapel, to the MAXXI Museum of Contemporary Art, Rome houses countless art treasures, each contributing irreplaceable insight to the field of Art History. Art History students at AUR go beyond textbooks to come face to face with these masterpieces in the unique atmosphere of our on-site classes. By learning in this interactive manner, our students can fully grasp the intrinsic nature of a wide variety of works of art, including painting, sculpture and architecture.
The program in Art History combines the comparative method and critical approach typical of American curricula with an intense immersion in one of the greatest art centers in the world, the city of Rome. Courses at all levels emphasize on-site observation and analysis and the use of Rome's unique resources for individual study and research. Students develop skills of visual analysis, connoisseurship, oral and written articulation of visual patterns and phenomena, the ability to read and to make use of advanced scholarship in the discipline, and the ability to conduct independent research. Art history majors are prepared to live and work in a world in which visual images are ubiquitous, the ability to analyze them is essential, and the preservation of material heritage requires a citizenry informed by knowledge of history and aesthetic value.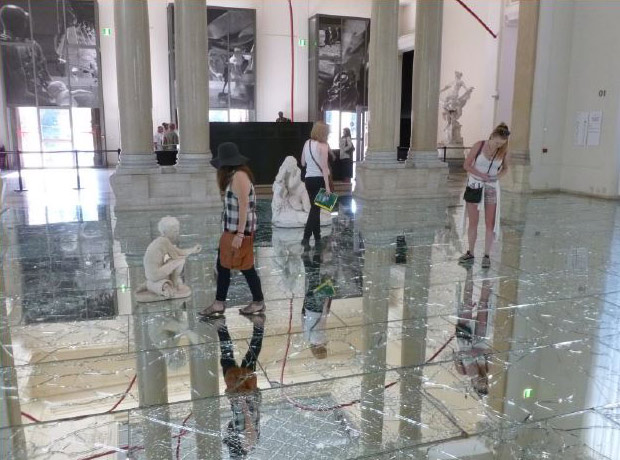 Innovative Education in an Ancient Setting
The Bachelor degree in Art History at The American University of Rome provides an innovative education focused on western and neighboring visual cultures. The program stimulates the acquisition of knowledge and encourages critical thinking skills, creativity and cross-cultural understanding. Our international faculty of active scholars instructs small classes, many on site in Rome and around Europe. Through interactive teaching and personalized supervision we aim to develop each student's intellectual potential and life-long engagement with cultural heritage by fostering the skills necessary for the modern workplace.
Studying Art History at The American University of Rome will develop your perceptual analysis of the visual arts and your ability to situate a work of art in its historical and cultural context. We will teach you how works of art are examined by using a variety of theoretical and methodological frameworks. Students will also learn effective oral and written communication skills relevant to the disciplines of Art History and the Humanities.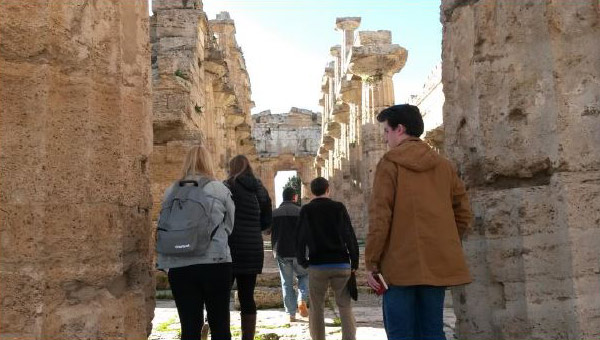 Learning Outcomes
Students who complete the major in Art History will have the following core competencies:
High-level skills of observation and analysis of art works and architecture
Command a range of theoretical tools for analyzing and interpreting visual signs within their cultural context and conduct independent research
Ability to articulate high level of oral and written skills and utilize the specialized sources commanded by the topic.
One Alumnus Story - where an Art History degree can take you...

Dana Phelps graduated Cum Laude from AUR in 2008 with departmental honors in Art History and a concentration in Archaeology. She went on to receive an MA in Cultural Heritage Studies from UCL in London before working for UNESCO, The Butrint Foundation, Gjirokastra Conservation & Development Organization, and as a contractor for the U.S. Agency for International Development in Washington, D.C. She is currently working on her PhD in Anthropology at Stanford University, where she also has worked for the Stanford Program on Human Rights.

"My current research looks at the impact of conflicting Europeanization and Islamicization processes in Albania through the lens of cultural heritage: within museums, through memorials, and through historic restorations. I examine how competing heritage and cultural development projects such as mosque constructions and Ottoman-period restorations funded by Turkey, opening of communist-era sites, and UNESCO initiatives create tensions in Albania. For example, how do these projects impact religious communities and religious extremism in Albania, given its multi-religious society?  How does Albanian society react to the controversial opening of communist-era sites? Or how do strengthened ties between Albania and Turkey impact its international relations with Greece, the E.U., the Vatican, the U.S., and other key international players?"
Course requirements and further detail
For more in-depth information about this program and individual course requirements, please see our full catalog.
Send a quick inquiry - just fill in the form below