Looking for an in-person, on-campus, academic, cultural, and social experience of a lifetime? Study Abroad with The American University of Rome in Spring 2021.
Education on Location: Rome is Our Classroom
Did you know that nearly 5 million students choose to study abroad every year? Are you hoping to join their ranks?
There's no doubt that the coronavirus pandemic has shaken the world and forced many to change their plans. Interestingly, though, only 4.7% of prospective students intend to cancel their study abroad plans due to COVID-19.
If studying abroad was a part of your plan before the pandemic, there's no reason you can't still make it happen. In fact, now could be the perfect time to make the leap!
Here, we explain why The American University of Rome is an excellent choice for your overseas education. We'll also discuss some advantages of studying abroad you may not have considered before.
Why Study Abroad at the American University of Rome?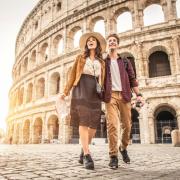 If you're interested in history, art, architecture, and culture, you couldn't pick a better place to study abroad than Rome.
Our glorious city is home to over 50 museums, 900 churches, and 12 UNESCO World Heritage Sites. Every time you set foot off campus, you'll be walking through an open-air museum that features 3 millennia of human history. Imagine learning about how the Romans perfected the dome and then, a few hours later, sipping a coffee beside the Pantheon!
Aside from the grandeur of Rome (and all the pizza and gelato you can eat), what makes our university the best choice for you?
Each year, we welcome over 500 students from 40 different countries into our liberal arts programs. Our small class sizes (16:1 student/faculty ratio) ensures you receive a highly personalized learning experience. You'll also have the option of living in university apartments around the campus, giving you a true taste of everyday Italian life.
Whether you join us for a full year, a semester, or just the summer, you'll easily be able to transfer those credits to your university back home. You might be surprised by how affordable studying abroad can be, especially compared to similar programs at home. 
In short, the American University of Rome was created for adventurers and dreamers. Rather than asking why you should study here, the real question is: Why shouldn't you?
Advantages of Studying Abroad
Let's face it—Rome itself isn't a hard sell. You could spend a few years (or a few lifetimes) here and not scratch the surface of everything the city offers.
But what about the general advantages of studying abroad? How will it shape your education and career path and help you to grow as an individual?
Here are 4 reasons why you'll never regret your decision to study abroad.
1. Deepen Your Understanding of the World
As Mark Twain famously said, "Travel is fatal to prejudice, bigotry, and narrow-mindedness." No matter how much you watch the news back home, there's only so much you can learn about the world until you go out and experience it.
We live in unprecedented times in a world that's more interconnected than ever before. Technology enables us to do business on the other side of the planet with a simple click of a button. If you want to thrive in an international work environment, you need an open-minded appreciation for (and understanding of) other cultures.
The way people do things at home might be great, but it's not the only way. Studying abroad introduces you to new ways of thinking and might even challenge some long-held assumptions. You'll gain a global perspective on your field of study as you see first-hand how other cultures approach and overcome obstacles.
2. Networking Opportunities You'd Never Have Otherwise
How many people from other countries and cultures do you come into contact with in your hometown?
When you study abroad at The American University of Rome, you'll collaborate with students and professors from across the globe. This allows you to enjoy enriching friendships during your studies and also paves the way for networking opportunities after you graduate.
You never know if one of your international connections will later open the door for an unexpected opportunity. One phone call from a former professor or classmate could send your life in an exciting new direction!
3. Gain Invaluable Life Experience & Self-Confidence
Studying abroad could be your first experience living on your own. Even if it's not, living in a foreign country is sure to challenge you and put your problem-solving skills to the test.
Adjusting to cultural differences can be overwhelming at first (hence the term "culture shock"). Something as simple as opening a bank account or ordering a meal forces you to hone your communication skills and develop patience. As you settle into your new routines, you'll start to understand how negotiating skills and cultural norms differ from place to place.
The result? With each new hurdle you overcome, your confidence will soar and your resilience will grow. No matter where your career path takes you, you'll use those important skills for the rest of your life.
4. Add a Gold Star to Your Resume
Studying abroad isn't just a fun learning experience. It can give you a competitive edge once you're ready to look for a job.
Don't believe us? Consider these recent stats:
41% of employers would consider offering a higher salary to someone who studied abroad
29% of employers factor studying abroad into their hiring decisions
23% of employers would hire someone who studied abroad over a similar candidate who did not
Studying abroad is a prime way to set yourself apart from the crowd and create a standout resume. That's something every new graduate needs in today's competitive job market!
You Don't Have to Stop Learning During COVID-19
There are more Americans studying abroad than ever before, and that doesn't have to change because of the pandemic. In fact, there's never been a better time to broaden your horizons and continue your education overseas.
The American University of Rome is ready to welcome you to our beautiful campus in "The Eternal City." Are you ready to join us?
We're now accepting applications, so head over to our admissions page for all the information you need to start your journey.
Tuition and Fees for Independent* Study Abroad Students
You'll find all the information on fees on this page
Send a quick inquiry - just fill in the form below