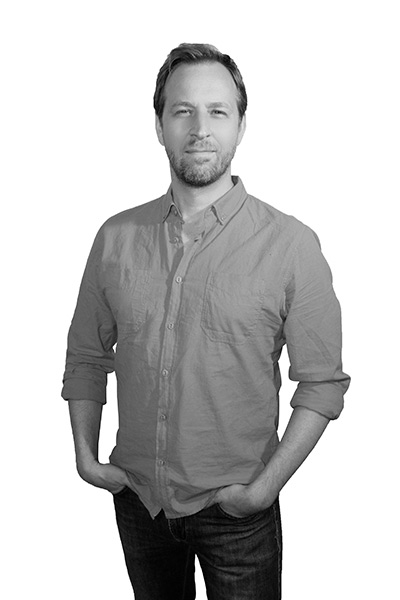 Education
MFA, The California Institute of the Arts, Los Angeles, 1999
BFA, The University of Arizona, Tucson, Arizona, 1995
Biography
Professor Patterson joined AUR in 2018 as Assistant Professor of Film. He has over 23 years of professional experience in filmmaking in the U.S., Asia and Europe both in the independent film and television worlds. Before coming to Rome, Patterson, who is American (from Orono, Maine) lived in Istanbul, Turkey, where he was an instructor at Bahçeşehir University for 17 years (2001-2018).
Prior to Turkey, Patterson taught in Singapore as a visiting lecturer at Ngee Ann Polytechnic from 1991-2001. It was during his time in Asia that he traveled to Istanbul and became so interested in the city and its culture that he decided to move there. 
Professor Patterson's last feature-length fiction film, Bahtı Kara (Dark Cloud) was a Turkish family drama which he wrote and produced in Turkey. It was released in Turkish cinemas in 2010 and screened at the international film festivals of Toronto, Shanghai, Hamburg, and Cairo, among others. The film won several festival awards and was nominated for four awards from the Turkish Film Critic's Awards (SIYAD) in 2011. He most recently co-directed a documentary, George Garzone: Let Be What Is, that was shown on the New York Jazz Film Festival Online in July 2018. He is currently in pre-production on a documentary on traditional water systems around the world (including Rome's public drinking fountains) and a music-only film on rhythm, as well as securing funding for his next feature-length feature film.
Professor Patterson has also worked professionally as a film editor and sound designer in Turkey and was nominated for a Turkish Film Critic's Awards (SIYAD) in 2015 for his editing of the Turkish film Kusursuzlar. His broad-based experience in film enables him to take a generalist approach in his teaching and combine things which are normally taught as separate disciplines. For instance, when teaching students the basics of film editing, he combines it with elements of screenwriting theory.
In addition to his full-time teaching, Professor Patterson has taught dozens of workshops all over the world with students ranging from Iraqi teenagers in refugee camps in Southern Turkey to film graduates in South Korea.
Publications & Works
Vimeo: https://vimeo.com/user357015
Flickr: https://www.flickr.com/photos/thetheron/
https://www.hollywoodreporter.com/news/filmmaker-adopts-unique-tactic-cloud-27872
(in Turkish) http://www.radikal.com.tr/hayat/amerikalidan-turk-usulu-mizah-998219/
 
Expert Consultant on…
Writing, directing, shooting, editing, sound design for fiction and non-fiction film