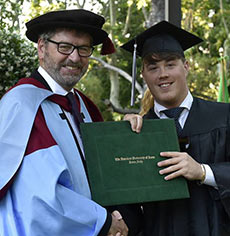 This summer has been an exciting one for soccer fans - and, with his newly earned B.S. in Business Administration, graduate Michael Zaitz is celebrating his own soccer success working for the Major League Soccer (https://www.mlssoccer.com) National Sales Center (MLS-NSC) in Minneapolis, Minnesota.
Zaitz was selected for a three-month, paid training program to learn the art of ticket sales and apply it in real-life sales interactions. Those who succeed in the highly-competitive program earn the opportunity to be interviewed for a full-time position within the MLS - the men's professional soccer league sanctioned by U.S. Soccer that represents the sport's highest level in both the United States and Canada.  The MLS was founded in 1993 as part of the United States' successful bid to host the 1994 FIFA World Cup and is third in average game attendance after the NFL and Major League Baseball, beating out both basketball and hockey in the US.
Zaitz sees a bright future ahead for US soccer, and for himself, in sales. "The reason I want to do this is that in about five years, going the sales route, you can move onto corporate sponsorship and soccer is really interesting right now in America. It's growing exponentially," said Zaitz. "And what's really exciting in 2026, we have the World Cup in the US, Mexico, and Canada with a major emphasis on the US with 60 games (and 10 each in Mexico and Canada) so that will really increase the exposure of the game."
"One of the best ways and only ways to get into the sports industry, working for clubs, is ticket sales. A lot of front office roles in clubs came from the ticket sales department," said Zaitz, who is from Pennsylvania.
While at AUR, Zaitz had an internship in the budgeting department at Bioversity International and it helped him realize that auditing was not for him. "It was really boring. But I love finance," he said, adding that one of his goals is to break into institutional sales, involving selling securities for a brokerage firm or bank. "I always pictured myself doing sales, talking to people, and I think the reason I would be successful at it is that I'm well-rounded," he said. 
"One of the reasons I came to AUR was to live abroad because I didn't think I knew a lot about the world," he said, describing his high school in Pittsburgh as a "bubble" of middle-upper class, white. "The thing I learned the most at AUR was to open up your perspective and be willing to hear from different points of view. I've met kids from all over the world and heard from their real-life points of view about what's happening, not what I've read in some article by someone with a bias. Obviously, everyone has their biases, but when you hear from multiple people from the same country about circumstances that are going on that you've never heard about before in any newspaper, magazine, or TV show, it's really interesting and it really opens your eyes."    
---
By AUR Staff Writer Carla Valentine. Send your news and comments to news@aur.edu