Dr. Scott Sprenger, AUR's president, was recently interviewed by the alumni relations department of Laney Graduate School at Emory University.
This article originally appeared at https://gs.emory.edu/happening/alumnispotlight/scottsprenger and is reproduced here with thanks to the original author.
---
HOW HAS YOUR RESEARCH AND TRAINING AT EMORY PREPARED YOU FOR YOUR ACADEMIC CAREER AND AS PRESIDENT OF THE AMERICAN UNIVERSITY OF ROME?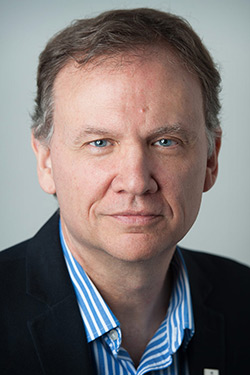 The wonderful thing about studying at Emory was the intellectual freedom I enjoyed and the constant encouragement to focus on big questions. Emory professors also insisted on interdisciplinary methods of analysis. These two threads – free-thinking and the cultivation of broad interdisciplinary interests – run through my entire career, both as an academic and as an administrator.  
WHAT WAS YOUR MOST VALUABLE LESSON LEARNED AS A LANEY GRADUATE STUDENT?  
To be open-minded and non-defensive when confronted with criticism, sometimes very harsh criticism. My professors at Emory, and especially the French ones, were always brutally honest in their commentary of my work. And I remember that being somewhat painful in the beginning. Looking back, however, the constant challenge to go deeper or to explore new directions laid the foundation for becoming a more resourceful thinker and collaborative administrator, even with colleagues whose perspectives I don't share.     
THROUGHOUT YOUR CAREER, YOU HAVE REMAINED COMMITTED TO CONNECTING LIBERAL ARTS/HUMANITIES TO GLOBAL CAREER OPPORTUNITIES. WHY IS THIS IMPORTANT?   
The liberal arts and humanities are still, in my view, the best training of the mind—both for cultivating intellectually engaged and emotionally resonant graduates, but also – surprisingly – for enhancing long-term career options. 
WHAT ARE SOME CHALLENGES YOU SEE IN ESTABLISHING THE CONNECTION BETWEEN LIBERAL ARTS/HUMANITIES AND GLOBAL CAREER OPPORTUNITIES?
One of the reassuring things I have learned over the past dozen or so years as a dean, provost, and now as president, is that many companies and organizations continue to value (and hire) liberal arts graduates as employees. But there are two major challenges: one challenge for students is to trust that the liberal arts and humanities are proper training for viable career options (beyond teaching) while for administrators the main challenge is to provide a robust and coordinated infrastructure to connect students to meaningful opportunities. Humanities colleges could and should do much more to address the severe return-on-investment pressures on contemporary students.
WHAT GLOBAL VALUE DO THE HUMANITIES FIELDS OFFER?
I think the answer varies according to one's generation. Students of my generation were taught to expose the causes and effects of various cultural myths or ideologies via the study of critical theory and literature. At the time, literary study was still considered one of the key portals into important forms of social and political critique. In today's world, a major problem is the global inundation of disinformation, the viral influence of digital media and manipulative algorithms, and the resulting informational silos that are making nations increasingly ungovernable. The liberal arts and humanities are still an important way to combat such social pathologies. But in an era of mass migration from the humanities disciplines to vocationally-oriented education, it's unclear how democratic societies can maintain "herd immunity" against these new ideological viruses. Is it too speculative to think that that the decline of humanistic study over the past few decades has contributed to the radical political polarization we currently find ourselves in?
HOW WOULD YOU DESCRIBE YOUR EXPERIENCES LIVING AND STUDYING ABROAD?
I would describe my "abroad" experiences as transformational. Going abroad as an undergraduate, graduate student and a Fulbright scholar, learning a foreign language fluently and entering into the mindset and values of another culture fundamentally changed how I engage with the world. To further that thought, international institutions where I have recently worked, like the American University of Paris or the American University of Rome, go a step beyond the traditional study abroad with their globally diverse student bodies and the lack of a dominant fallback culture on which to rely for one's self-identity and ways of thinking. I am convinced that daily discussion between students and professors from around the globe is the most effective way to escape the orbit of one's own cultural biases and to become more self-aware of what truly matters.
WHAT HAS BEEN THE MOST REWARDING ASPECT OF YOUR CAREER?
I have always loved teaching and getting students excited about the study of European literature and civilization. I miss that. I have also enjoyed publishing and collaborating with colleagues on research projects. More recently, and taking a different turn, I have found it surprisingly inspiring to see the transformational impact that philanthropy can have on students' lives via scholarships, new learning facilities, or civic engagement projects. As quick examples, I raised funding in Paris to create a Civic Media Lab and a Center for Critical Democracy Studies, while in Utah I worked on the creation of a first-class sound recording studio, a community mural project devoted to saving monarch butterflies, and a faculty-led arts programming project for a new arts plaza in downtown Ogden. At The American University of Rome, I am currently working with partners to secure funding for the control and supervision of a major archaeological dig on the famous Aventine Hill. It's a once-in-a-lifetime opportunity for AUR and the St. Stephen's International School to create a world-class "archaeological laboratory" for students and faculty, just minutes away from our campuses in central Rome.
THROUGHOUT YOUR CAREER, YOU HAVE HELD MANY LEADERSHIP ROLES. WHAT ARE YOUR GREATEST LEADERSHIP LESSONS?
People often ask for my views on this topic, and I have no lofty theory to share. For me, leadership is mostly about collaborating with colleagues and students to solve problems and work on improvement projects that have meaningful impact. This view of leadership has more to do with an attitude or an outlook than with holding an official position, and it can occur at any level in an organizational hierarchy. Although I never imagined becoming a university president while studying literature at Emory, it has been interesting to discover that the most satisfying part of my career has slowly emerged from following an inclination to make improvements in the service of others.
WHAT ADVICE CAN YOU OFFER CURRENT GRADUATE STUDENTS?
Think your own thoughts and connect your ambition to issues beyond narrow professionalism. It's not as easy as it sounds because of the many social and professional pressures to conform and to avoid risk-taking. In the humanities, the pushes and pulls of an academic career are especially paradoxical because to find an original research topic Ph.D. students generally need to focus narrowly, while the humanities can remain truly relevant only by staying connected to broader human issues. Managing that dialectic is key to staying relevant.  
WHAT DO YOU SEE AS THE FUTURE ROLE OF GRADUATE EDUCATION-- FROM A GLOBAL PERSPECTIVE?  
It is really difficult to say given the current dearth of academic job possibilities and the structural transformations in higher education toward corporatization. My first thought is that students should pursue graduate study in the humanities only if they are passionate about it and won't be bitter if they don't land an academic position. That said, there are many avenues into interesting non-academic careers with the kinds of research skills and knowledge cultivated in graduate education.
ON A MORE PERSONAL NOTE, WHAT DO YOU MISS MOST ABOUT YOUR TIME LIVING IN ATLANTA?
I miss a couple of things about Atlanta: the Dekalb County Market, which is one of the most amazingly diverse food markets in the US, and a wonderful Caribbean restaurant that I hear no longer exists: The Bridgetown Cafe. After more than 25 years, I still crave their jerk chicken!