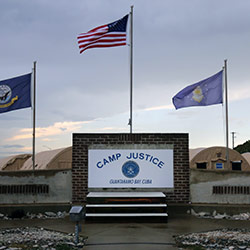 This talk focuses on the military commission trial for Khaled Sheikh Muhammad and four other men accused of responsibility for the 9/11 terrorist attacks, a case often referred to as "the trial of the century." Lisa Hajjar will offer a first-hand perspective on what it is like to go to Guantanamo (in her case, as a journalist), and the critical and contentious issues that this case raises. These include not only how the government is striving to pursue accountability for 9/11, but also the fact that all five defendants were held for years in secret prisons and tortured by the CIA. Because of the important role played by the CIA, everything surrounding this case is shrouded in secrecy and complicates the legal process.
 
Lisa Hajjar is a professor of sociology at the University of California – Santa Barbara. Her work focuses mainly on issues relating to law and conflict, military courts and occupations, human rights and international law, torture and targeted killing. Her publications include Courting Conflict: The Israeli Military Court System in the West Bank and Gaza (University of California Press, 2005) and Torture: A Sociology of Violence and Human Rights (Routledge 2013). She is currently working on a book titled The War in Court: The Legal Campaign against US Torture in the "War on Terror."
Below, a lecture from 2017. Lisa Hajjar, presenting in the Scripps Lecture Series "The War on Terror 15 Years Later," Hajjar provides an analysis of torture in the context of the war on terror. In Hajjar's words, "the US 'war on terror' is now into its sixteenth year, and the end is nowhere in sight.
Register your attendance at forthcoming AUR events