RvB Arts Gallery
The idea of working in an art gallery may conjure colourless and uninspiring associations. You might picture monotone paintings, white walls, distant employees, and a strict boss. Not the RvB Arts Gallery!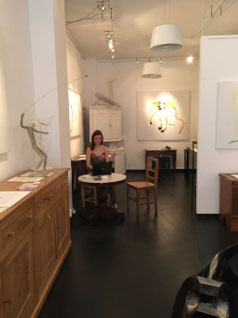 This unique gallery, located in the heart of Rome near the Tiber River, exhibits the work of emerging Italian artists. A boring "white walls" environment? This gallery is filled with the spirit of art! The pieces on exhibit are created by artists using different techniques and media; shows include sculpture, photography, and many styles of painting. Another singularity is that the gallery cooperates with an antique store, "Antiquariato Valligiano" which exhibits rare and antique furniture mixed in with the works of art. This adds an atmosphere of comfort and increases a visitor's immersion in the world of Art. Michele Von Büren, the gallery owner, is also responsible for the welcoming atmosphere. During my entire internship, I never saw her unhappy or upset. She greets all visitors warmly and everyone -- artists, staff, and visitors -- leave with pleasant memories of her gallery.
My work consisted mostly of physical tasks such as packing and unpacking pieces of art, positioning them, and organizing the spaces for exhibitions. The people working in the gallery and the artists I helped were always cheerful and the hours flew by in such good company. There was not a day without some communication with customers, artists, or co-workers and each time it was a different request, so the routine was never monotonous. I am grateful to my co-worker, Yana, who always found time to provide guidance and explain how things should be done. Most importantly, of course, I am very obliged to Michele for giving me an opportunity to immerse myself in the world of art, to observe and analyse it from all aspects.
RvB Arts is truly an art gallery with an inspirational spirit!