One of the many benefits of studying at AUR is, not only do you have access to all the wonders of Rome, but also Europe's great capital cities are just a few hours away by plane. Take, for example, Berlin...
This semester, over a three-day weekend in October, AUR students traveled with Professor Jens Koehler to Germany's capital city to explore "Berlin Museums and Cultural Dilemma." The one-credit field trip, part of the Archaeology & Classics program, was open to all students and explored Berlin's complex and disrupted history.
"The unexpected late-summer weather made the tour even more pleasant," said Professor Koehler who was born in Germany. "Probably every participant got the feeling that the available time was too short. We covered four museums with in-depth visits and six monuments in a day and a half. Berlin still has far more to offer."
Among the highlights were museum collections initiated by the kings of Prussia (the Nefertiti Bust in the Egyptian Museum, The Ishtar Gate from the inner city of Babylon, and paintings by German classicists and French Impressionists); monuments against the terror under National-Socialist rule (Holocaust Memorial, Jewish Museum, book-burning site); and traces of the Cold War during the German division into East and West (Berlin Wall, Checkpoint Charlie).
Onsite, at the various museums and monuments, students gave presentations on a topic of personal interest or related to their studies.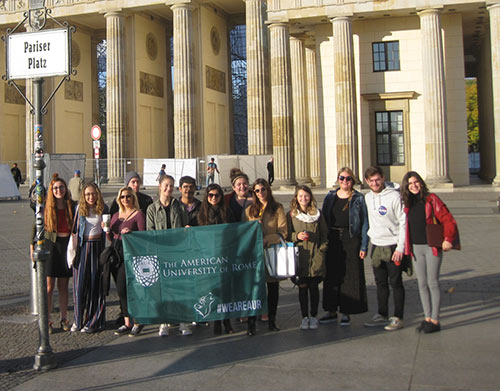 We asked them: "What did you like/not like of the city? What did you learn from our tour?"
Adellina Cini: I liked that the city has so much history which is present everywhere you walk, but I found it hard to step out of the history and find joyful and peaceful spaces. From this tour I have a greater understanding of how hatred and violence accumulates and how even reconciliation has to be paid for, has a price. I learned that ignoring your history is never the solution if the nation wants to move forward and that just because we live in the 21st century that does not mean that we have evolved past bigotry and nonsensical violence.
Benjamin Hild: (The Brandenburg Gate) It is just one example of what I enjoyed most about the city: The close feeling of connection to history. Everywhere in Berlin are pieces of the past, which continue to inform the development of the city today. Rather than to try to ignore the past, the city has chosen to learn from it. This tour gave me a new appreciation for how the events of the distant past still affect the present and future.
Rebecca Tompkins: What I really liked about the city is that they embraced all the bad and they took what happened to their city and made a teaching moment out of it instead of trying to wipe away what had happened. What I didn't like was that it didn't really feel like a city but more like a tourist attraction. Another thing that I learned is that when nothing but bad things happen, all you can do is become a stronger country in the end. And when you want to forget about what happened in the past, it's better to remember. That way, you won't make the same mistake again.
Derek Cebrian: I really liked Berlin; its museums and architecture fascinated me. I enjoyed seeing the differences from buildings to buildings. I also greatly enjoyed the public transportation system. I learned a lot about the city of Berlin, from history in lectures before the trip and seeing the urban space in person. I learned specifically that every city has a deep, continuous history. Berlin has made me think about other cities and their histories which I know little about.
Eran Eluasvili: The thing I liked the most about Berlin was the fact that they have successfully modernized their city, while maintaining the essential parts/historical sites in order to conserve their heritage and remember their past. I learned how important architecture can be, to convey a message, and how much it can be influenced by history, and ideology.
Emily Miller: Overall, I absolutely fell in love with Berlin the minute I landed. Being able to see everything I saw and being able to see another culture and history was beyond amazing. Every place we went to and thing we saw was gorgeous and humbling, and every moment we were there I felt in the presence of an amazingly strong country full of proud and kind people. I learned more about art than I have ever learned before, especially about Classicism (which I didn't know was a thing), and I learned about monuments that I never even knew existed or had an impact on German history (including Checkpoint Charlie and the Brandenburg Gate).
Saloni Khamar: I loved Berlin as a city. Much like Rome, you could see layers of history, though much of it was very recent. The city is very dynamic and has cultural significance that the rest of the world can look to for inspiration. Berlin as a city was fascinating and inspired me to think about how fast things can change in one environment. The hostel I stayed in was in East Berlin which is a part of the city I would not have been allowed to step foot in a little more than two decades ago; however, now it is indistinguishable from West Berlin in terms of development. Furthermore, I found traveling in this city to be a humbling experience as it was a constant reminder of the oppressive past Germans faced in Berlin, and how we should take measures to ensure that we do not repeat that history.