The Hungarian government has proposed amendments to the National Higher Education Law that would make it impossible for Central European University – and possibly other international institutions – to continue operations within the country.
A mesage from Michael Ignatieff, President and Rector of The Central European University (CEU).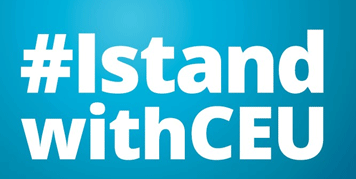 CEU continues to receive strong statements of support from universities, professional associations, and business groups around the world, but as always the support that is of particular importance to us comes from Hungary.
 
This week, at its annual general assembly, the distinguished members of the Hungarian Academy of Sciences adopted a resolution recommending that the government accept their President's offer "to mediate, and make uninterrupted operation of CEU possible." CEU is grateful to our Hungarian colleagues for this support and we stand ready to cooperate fully with any efforts at mediation.
 
Time, however, is of the essence.
 
It is now a month since President Ader called for negotiations, yet none have taken place directly with CEU to date. CEU has been invited to participate in a 'professional consultation' organized by an inter-ministerial working group of the Hungarian government next week. Although there is no indication, as yet, where these 'consultations' will lead, CEU remains ready to enter into negotiations to resolve the matter.
 
As our friends and colleagues, you need to be aware that under the new law, CEU's license to operate can be withdrawn any time after October 11, 2017. After January 1, 2018, we can continue to teach and graduate the students already enrolled, but we cannot accept any new students.
 
These deadlines are unacceptable infringements of our academic freedom and if they are not withdrawn, we cannot continue to operate in Hungary. As we have done since the beginning, we call on the government, once again, to sit down with us and negotiate a solution that allows CEU to remain in Budapest as a free institution. 
Budapest is our home, as it has been to our 14,000 alumni around the world who chose to pursue their studies here. This weekend, as we welcome alumni back to campus for Reunion, we are reminded once again of the importance of our cause and strengthened by the leadership and dedication shown by CEU's community. Thank you for your support.
Best wishes,
 
Michael Ignatieff, President and Rector
Liviu Matei, Provost and Pro-Rector
..........................................................................................
For background on this story please see this related article.