A new exhibition opening at the Capitoline Museum displays, for the first time, a rediscovered fragment of a long-lost fresco painted by Pintoricchio. AUR's fabulous Professor Claudia La Malfa is one of the curators of the exhibition and the catalog.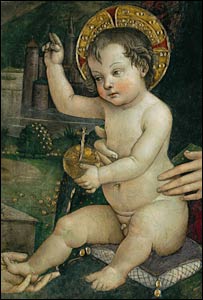 The beautful and delicate fragment of a woman's face belongs to the pictorial cycle of the Borgia apartments in the Vatican - also the original home to the (somehwat scandalous) 'Baby Jesus of the Hands'.
The sumptuous 500-year old apartments of Pope Alexander VI were originally richly decorated (enough to make King Charles VIII of France weak at the knees...) and featured a number of frescoes by  Bernardino di Betto, better known "Pinturicchio," unfortunately, many of which have been lost over the years and are only now being restored thanks to the dedicated work of the Vatican restoration team.
Pinturicchio, a 15th-century master, painted frescoes in numerous Italian churches, but his works on the apartments of the controversial Spanish pope, the father of seven children and often represented as a man more concerned with earthly pleasures than spiritual, are thought to be amongs the best of his works. Alexander, elected in 1492, gave Pinturicchio two years to decorate his private apartments and he specifiacally asked that the paintings reflect his intellectual interests in the arts and sciences; amongst the recently restored frescoes is 'The Resurrection' which contains one of the first European depictions of Native Americans in the New World.
The Vatican's chief restorer, Maria Ludmila Pustka, stated "Alexander was a very important, unique character for the political history of that time. He was an outsider, a Spaniard from Valencia and he brought a great openness to the Holy See. This pope really deserves more detailed analysis as he brought great innovation at a cultural and philosophical level."
This new exhibition brings to public attention the amazing time, one of the most fruitful of Roman culture, which saw the end of Quattrocento (the period 1400 to 1499) and the start of the Renaissance.
The exhibition opens on May 19 and runs through to September 10 2017. The museum is open daily from 9.30 to 19.30 with last entry one hour before closing.
For further information visit the museum's website