What is a beautiful garden to southern Ethiopian farmers? Anchored in the author's perceptual approach to the people, plants, land, and food, The Edible Gardens of Ethiopia opens a window into the simple beauty and ecological vitality of an ensete garden.
An ethnographic and literary homage to a unique plant from a unique part of Ethiopia. Dr. Peveri takes you deep into the secret ensete gardens of southwestern Ethiopia to explore, taste, and admire this life-nurturing plant and appreciate its role in shaping the culture, identity, and aesthetic values of the Hadiyya community."—Angela Raven-Roberts, Oxford University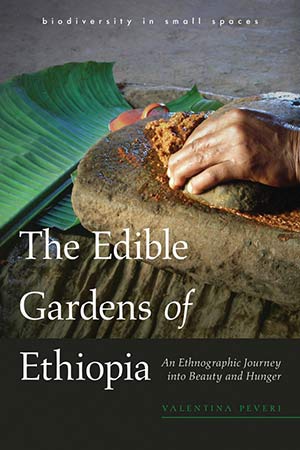 The ensete plant is only one among the many "unloved" crops that are marginalized and pushed close to disappearance by the advance of farming modernization and monocultural thinking. And yet its human companions, caught in a symbiotic and sensuous dialogue with the plant, still relate to each exemplar as having individual appearance, sensibility, charisma, and taste, as an epiphany of beauty and prosperity, and even believe that the plant can feel pain. Here a different story is recounted of these human-plant communities, one of reciprocal love at times practiced in an act of secrecy. The plot unfolds from the subversive and tasteful dimensions of gardening for subsistence and cooking in the garden of ensete through reflections on the cultural and edible dimensions of biodiversity to embrace hunger and beauty as absorbing aesthetic experiences in small-scale agriculture. Through this story, the reader will enter the material and spiritual world of ensete and contemplate it as a modest yet inspiring example of hope in rapidly deteriorating landscapes.
Based on prolonged engagement with this "virtuous" plant of southwestern Ethiopia, this book provides a nuanced reading of the ensete ventricosum (avant-)garden and explores how the life in tiny, diverse, and womanly plots offers alternative visions of nature, food policy, and conservation efforts.
"Peveri's glorious ethnography offers nuanced understanding of how plant and people meet, of the nostalgia and hope, work and play, love and beauty expressed by ensete and its human relatives. She helps us see like a farmer and see like a perennial tuber. She shares her love for ensete – a botanical relative of the banana — and of the women of Hadiyya who cultivate intimate relations with the plant in gardens and kitchens, even as hybrid maize threatens the plant that has fed people for 200 years."—Harriet Friedmann, University of Toronto 
Professor Valentina Peveri is a food anthropologist with experience in the fields of environment and development. She held a Fulbright and visiting scholar appointment at Boston University. She serves as an adjunct professor at The American University of Rome as part of the M.A. in Food Studies.
Since 2004 Peveri has been carrying out fieldwork in Southern Ethiopia. Two main passions have inspired her work: the resilience of perennial plants, subsistence and famine foods; and the robust constitution of (women) farmers who are materially and symbolically connected to such landscapes and foodscapes. Her research interests span the subfields of environmental, gendered, and bio-cultural anthropology.