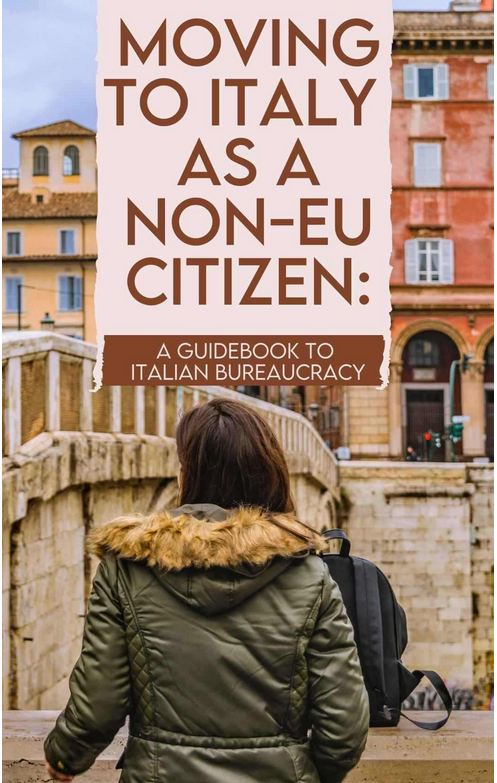 Evelyn Hill is one of those AUR students who arrived in Rome to study, became enamored with all things Italy, and decided to stay in the bel paese after graduation. We are thrilled to share the news that she has just published a guide for non-EU citizens who dream of doing the same!
After graduating from AUR with a degree in Archaeology and Classics in 2015, Evelyn headed north to Milan where she obtained her master's degree in Arts Management and Administration from SDA Bocconi. Evelyn is now based in Turin and runs her own company, Dalle Colline Alle Montagne (From Hills to Mountains), in which she draws upon her wealth of knowledge on each Italian region's unique culture of food, wine, and history to create exceptional trips to Italy tailored to the individual traveler.
Moving to Italy as a Non-EU Citizen: A Guide to Italian Bureaucracy gives invaluable insight into the process of establishing yourself in Italy and offers tips on how to navigate the notoriously tricky process of doing so. Armed with the information in this book, readers can save themselves many hours of researching and translating, and will be fully prepared for every visit to the embassy or questura!
In the introduction to the guide, Evelyn writes,
When I started sharing more about my life in Italy on social media, I was surprised how many people reached out to me saying they were moving to Italy that year... with no visa, no job, no plan. It's romantic, and plenty of movies highlighting La Dolce Vita seem to have glued this image into our heads that we can just pack our bags and whisk away to Italy. Truth is, it is far from easy. You've got a lot of long lines, paperwork, frustration, angry desk workers and tears ahead of you. But is it worth it? That is up for you to decide. If you ask me, I will tell you yes, the last ten years, and hundreds of questura appointments have definitely been worth it.

You may find differently, to each their own. My hope is that this book will give you a clearer picture of what lies ahead for you so that you can make the decision to move, or to stay in Italy for yourself. I also hope this will clarify all the options for those of you trying to stay (legally) as long as you can in Italy.
And the synopsis reads:
When you start dreaming of moving to Italy, the first thing on your mind is probably not paperwork. But moving to Italy requires A LOT of it. To move to Italy you'll need to figure out the best visa for your situation, then once your there you'll need to sort out a permit to stay - a permesso di soggiorno. There are many different visas and permits - one for every individual situation.
This book is your guide to the long lists of paperwork, a walkthrough of all the different appointment processes, and finally, a straightforward layout of the how what, where, and when of the bureaucracy of moving to Italy.

Inside you will find information on how to apply for your visa and permesso if you are:

A student, coming to Italy for study abroad, teaching English, or for a longer program
A graduate looking to stick around in Italy longer with the "attesa di occupazione" permit of stay
An employee navigating your move to Italy
A freelancer looking for a way to move, or stay in Italy
A retiree hoping to settle in Italy
A spouse looking to join your Italian partner

Along with information on how to apply for the relevant visas and permesso di soggiorno you'll also find information on:

Getting residency in Italy
Buying property in Italy
The Partita IVA (tax code for freelancers) how to sign up and all the things you will need to get started
Getting married in Italy and much more!

You'll find a resources section packed full of website sources for Italian Language programs, primary official government sites, plus a quick vocabulary and useful phrases chapter.
Huge congratulations to Evelyn on the publication of her book!
Click here to visit the website of Dalle Colline Alle Montagne.