Castel Romano Designer Outlet Tour
Fashion Outlet Tourism: Rome's world of affordable luxury
by Camila Campuzano
Fashion Institute of Technology, 2019; Study Abroad Student at AUR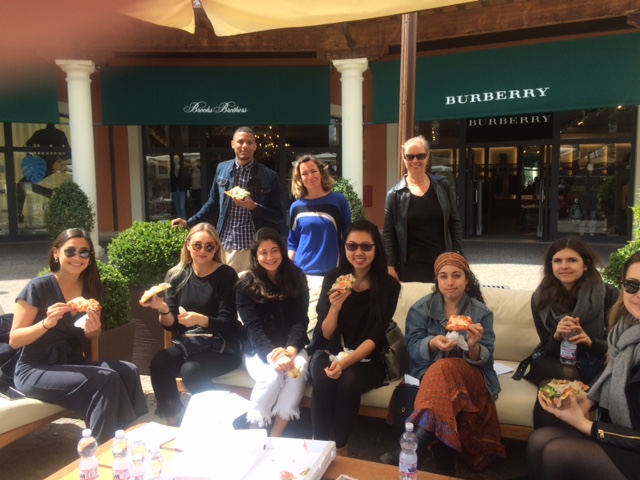 When one thinks of Italy, many things come to mind such as amazing architecture sites, gorgeous vineyards, fresh authentic food, and stunning coastal cities, all of which millions of tourists from around the world come to visit every year. But, what if I told you that there is a new incentive for tourists to come visit Italy that had nothing to do with sightseeing? Well there is, and it is known as fashion outlet tourism.
The Global Fashion Marketing students took a field trip to the Castel Romano Designer Outlet, located about an hour from central Rome. There is a shuttle service specifically planned to bring tourists in and out of Rome for the sole purpose of visiting the outlet. Upon arrival, it became clear that this was extremely internationally friendly place. The welcome signs, as well as signs throughout the outlet were written in over ten different languages. The whole operation seemed very well designed to attract a different kind of tourist, the tourist who wants to buy designer fashion labels in a very European style.
Prof Anna Sasso led us on a tour of number of stores, which helped us get a feel for how the outlets were successfully marketing and branding themselves in order to attract and reach a global audience. What became very clear was that each individual brand had a very clear identity, making it easy for shoppers to find the stores they needed to shop at. It was very clear that brand history, or brand DNA, was the essential element that attracted tourists to shop at particular stores. For instance, Valentino, a famous Italian fashion label, is well known for their stunning and elegant gowns and dresses. In the Valentino outlet store, dresses and gowns really seemed to be the primary product, because that is what consumers associate with the brand.
Every sales associate at the outlet had a thorough knowledge of the brand, and in this regard they were not much different from a tour guide on a sightseeing excursion. This added to the shopping experience here for the customers. Shopping with people who are passionate about these renowned fashion brands made the products appear to have so much depth, history and meaning. When we visited Etro, an Italian family owned brand, we discussed how they were textile producers before they broke into the apparel industry. They traveled to India one summer and were inspired by the paisley designs and colors of the textiles they saw throughout their travels. Each set of Etro scarfs is named after an Indian city. Now the scarf isn't just a scarf, it has become a story.
This continuous effort made by the fashion brands and the sales associates at the designer outlets is really creating a new boom in Italy's tourism industry. Sales associates discussed the different types of consumers who come from Asian countries, the Middle East, the United States, and many more parts of the world. Part of "Dolce Vita" is Italian fashion and style and more and more shoppers are deciding that is clearly worth travelling for.