By Drew Perry, Global Fashion Marketing, Spring 2017
On April 7, Prof Anna Sasso's Global Fashion Marketing students indulged in a world of the Italian luxury at Castel Romano Designer Outlet, which is the perfect place to find your favorite brands at reduced prices. Located just 20 minutes from Rome, the Castel Romano Designer outlet has a plethora of brands available. From luxury brands such as Valentino, Loro Piana and Burburry, to more mainstream brands such as Vans.
Our Global Fashion Marketing class visited Versace, Ferragamo, Loro Piana, Burberry and Etro stores.  The salespeople were the spokespeople for their brands and in their presence, our class was able to share in their enthusiasm for the products they were selling. The salespeople only approached when they sensed confusion and offered help. They were not overly pushy and were more concerned about a great customer experience than selling product in volume. In the luxury stores our class entered, we could sense the overarching mantra of quality over quantity reverberating through the lacquered walls. This sense permeates from the knowledgeable salespeople, the price tags and most importantly, the products themselves.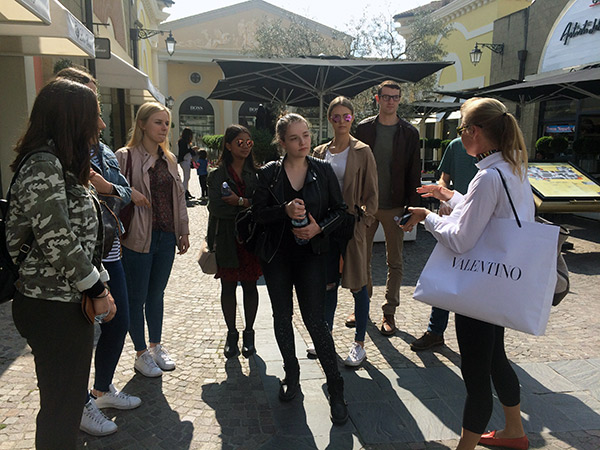 Exclusivity could be felt in the luxurious materials, like in the Burberry cashmere scarves or in the Loro Piana lotus flower fabric. In Loro Piana the brand labels were discrete, there was no massive marketing effort seen in the store. The products sold themselves and the salespeople watched from the sidelines. By contrast, Etro had exotic fabrics and colors. Its eccentricity was their selling point and the salespeople offered brochures to get us involved with the brand. In Valentino, it was classy, but with a flair for the exotic. From this I could see that different brands, all luxury, had very different stories and approached their selling philosophy in a very different way. And although their products were all quite different, the displays were similar, even the body language of the luxury salespeople mirrored their counterparts. They were well trained and reserved. Almost shy, until called, whereupon they lit up with enthusiasm and confidently displayed their product knowledge.
A day that started as a school assignment quickly turned into enjoyable, luxurious, yet also educational day that truly felt like a discovery of a new world.