AUR's Business Administration program recently welcomed back Luca Regano, Chief Executive Officer of Froneri Ice Cream, Italy. Leading off the first of the Business Program's inspirational spring lecture series, Regano presented an exclusive seminar on 'Leadership in times of crisis,' to an enthusiastic audience of students both (socially-distanced) in-person and online.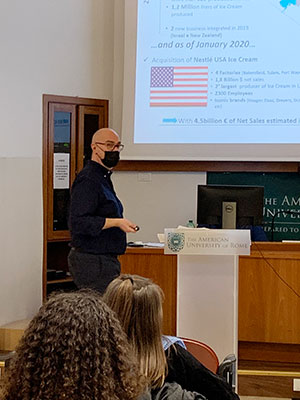 Recruited in 2016 to take the lead at the Italian office of the new Froneri company – a merger between Nestlé and R&R Ice Cream, Italy's largest private-label ice cream producer - Regano has created a unique business model based on a culture of excellence and a passion for customer service. Combining these two ingredients with a unique brand portfolio has ensured the meteoric success of the Froneri company - now the second-largest ice cream production company in Europe.
On authentic leadership, Regano's message is straightforward but convincing, leadership has to be based on honesty and trust. Leaders must instill in their colleagues a passion for improvement, a constant striving for excellence, and an understanding that the company will thrive through every individuals' personal growth and development. But the most important advice Luca gave was surprisingly the simplest one – be yourself! "Find something that you love and that you are good at and you'll be happy" explained Regano.
Regano ended his seminar by presenting all in-person attendees with a copy of his favorite book, Jonathan Livingston Seagull by Richard Bach, a fable about a seagull who is trying to learn about life and flight, and a homily about self-perfection. The book is listed as one of 50 "timeless spiritual classics" in a book by Tom Butler-Bowdon, who noted that "it is easy now, 35 years on, to overlook the originality of the book's concept, ... it expresses timeless ideas about human potential."
AUR's students and the Business Administration program faculty would like to express their profound thanks to Luca Regano for an informative, engaging, and insightful seminar. We look forward to welcoming him back in the near future.
---
By Anastasia Zorina (BUS '21)