AUR's Professor Paul Gwynne, Division Chair of Arts and Humanities, stars in a new documentary entitled 'Empire Games'. Produced by KM Plus Media and Big Media (also responsible for classics such as Mushers and The New Frontier) this engaging and beautifully produced series explores the greatest empires in a way that has never been fully investigated. Each episode highlights and exposes the political intrigue, personal vendettas, family mayhem, acts of vengeance and the ever-evolving tension, turmoil and chaos that shaped these civilizations - and led to their destruction from within.
Empire Games is not a broad "survey" series. Each episode is an in-depth exploration of key chapter in the longer story – a specific time period, dynasty or Imperial reign. This "deep dive" approach allows for the audience to engage over a sustained period of time with some of the most intriguing stories of the past.
Alongside cinematic reconstructions of impactful moments for the respective empires, there is a selection of impeccable and rarely viewed archive footage and commentary from leading academic experts in the field of ancient history.
The series is narrated by Simon Parreira Shorey and written by Rob Kirk.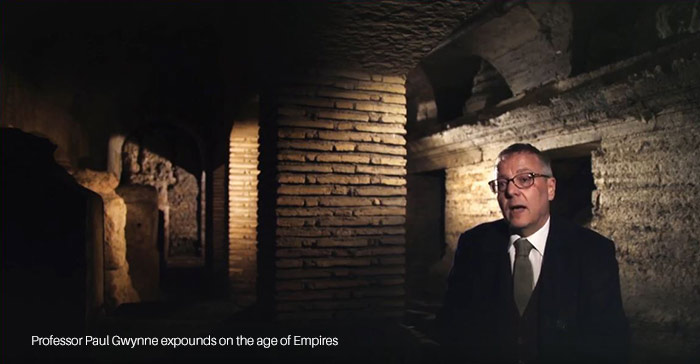 You can watch Episode 1: The Romans, Born in Blood below and access the following episodes online on Youtube. 
Episode 1: The Romans, Born in Blood
Rome's first dynasty, founded by Julius Caesar, ruled the Empire for 100 years. From Caesar's murder on the floor of the Senate to the mad emperors Caligula and Nero, this chapter in the Roman Empire offers enough intrigue, betrayal, perversion and murder for an entire series!