The American University of Rome's Professor Rula Jebreal introduced former President Barack Obama's on the occasion of his first public speaking engagement since leaving office.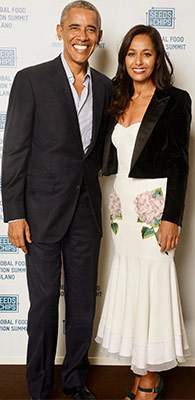 Barack Obama set foot back upon the world stage with a keynote speech at the Seeds&Chips Global Food Innovation Summit, one of the top Food Innovation events in the world. Seed&Chips is dedicated to showcasing national and international talent and cutting-edge solutions from around the world and Mr. Obama spoke about how climate change was imperiling food production around the world - threatening to aggravate the "migration that has put such a burden on Europe." In an entertaining and intelligent speech, Mr. Obama also touched on rain patterns, income inequality, privacy issues and his post-presidential life. He offered observations about how changing diets around the world were driving increases in carbon emissions from agriculture, and how agricultural interests tended to stick together politically across party lines.
"Because food is so close to us and is part of our family and is part of what we do every single day, people, I think, are more resistant to the idea of government or bureaucrats telling them what to eat, how to eat and how to grow," he said.
Among the prominent conference attendees was Matteo Renzi, the former prime minister of Italy, with whom Mr. Obama held a personal meeting earlier in the day. According to a report in The New York Times, this meeting included an impromptu conference call to Emmanuel Macron, the new French President, to congratulate him on his election vistory.
After their meeting, the two men went to the Palazzo Clerici for a dinner organized by the Obama Foundation and the Italian Institute for International Political Studies. Mr. Obama also made time to visit da Vinci's "Last Supper," at the monastery of Santa Maria delle Grazie
 
A note from Seed&Chips: Food Innovation concerns the whole food chain, from farm to fork: the increasing world population and protein consumption, climate change, scarcity of available resources, socio-demographic changes, protection of health and irreversible and overt changes in the processes of choice and purchase are all important to food innovation. We are changing the ways in which food is produced, processed, distributed, communicated and consumed. Never before in history has man faced challenges so urgent and never before has he had access to the technological infrastructure to address them, and still there remains so much potential to be discovered. 
 
"Thanks this edition of Seeds&Chips and thanks to President Barack H. Obama's extraordinary participation in the Global Food Innovation Summit, the city of Milano - and Italy – are once again the world hub of food and food innovation, a journey that began with Expo 2015," stated Marco Gualtieri, founder and Chairman of Seeds&Chips. "New technologies can offer us the solutions to tackle some of the major global challenges: food security, nutrition, combatting waste, sustainability and climate change. I believe that Italy can be a key player in this sector by joining innovation and our long-standing tradition of excellence in food. There are hundreds of startups, businesses and companies who are active in this field and at Seeds & Chips our overall goal is to gather them all under one roof with a synergistic action that will enable Milano and Italy to become an international reference point for innovation in food and food-tech".