A press conference at The American University of Rome today presented a collaboration between Lega Serie A and College Life Italia. The "Sliding Goals" initiative opens a preferential channel for the sporting and professional future of the young players of the Lega Serie Club A in the United States.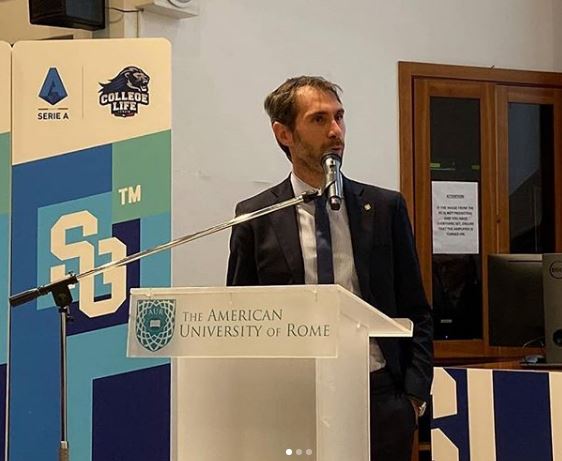 "Sliding Goals" will allow many youngsters to study, graduate and play soccer in prestigious American colleges, without ceasing to pursue the dream of playing in the Italian Championship.
The Serie A League, actively engaged in a process of the internationalization of Italian football, wants to achieve the goal of supporting the sporting and professional growth of young athletes registered in the Serie A through collaborations with the most important sporting and academic institutions of the world.
College Life Italia is the first organization to work with Italian students/athletes to compete for athletic and academic scholarships at the Collegiate level in the United States of America. Their staff has been deeply involved with collegiate sports for over 20 years and, working with more than 3500 American universities and more than 10000 college coaches, have helped over 450 young Italians to receive sports scholarships for a total value of 50 million dollars.
"Sliding Goals" commented Lega Serie A CEO Luigi De Siervo "will be the pride of a project that will see the Serie A League actively present in the United States, with a series of activities that will involve prestigious American colleges like Harvard University, with a reflection that will bring benefits to the Serie A brand in the American market ".
"College Life Italia can be proud of having changed the lives of hundreds of kids." added the President of College Life Italia, Stefano Radio, "Today we are happy to put our know-how at the disposal of the Serie A League and all Italian football, helping young people to realize themselves in their sporting and professional life ".
Francesco D'Agostino, coach of one of the most prestigious universities of the Ivy League, Harvard University, stated "The American collegial system allows young talent to achieve in their studies and their football career at the same time. As an Italian-American, my dream was to reach the levels of Paolo Maldini and Roberto Baggio. Unfortunately, I was not able to reach those stages, but thanks to the US academic organization that gave me the chance to graduate while I was playing, I turned my studies into the possibility of making a career in the football world".
The American University of Rome hosts and partners with College Life Italia in Rome and wishes them all success in this new venture.