If a career in Travel & Tourism is your final destination, then Rome is a great place to start -- with a Bachelor's degree from the American University of Rome.
Not only is Rome consistently ranked a must-see (#12 on the 2017 Euromonitor International Top City Destination Rankings), but it's at the center of every tourism trend imaginable. You name it, it's here: slow food, wine, wellness, shopping, cruises, cultural heritage, art, religious pilgrimages, adventure, nature, sustainable eco-friendly, music and film festivals, world sporting events and even theme parks. 
Being Italy's capital and having the Vatican City as a major attraction, Rome knows better than any city the power of tourism as an economic driver, political force, and influencer – for better or worse -- on cultural heritage and sustainability and using Rome as the classroom (literally), students will experience first-hand how new initiatives and best practices can work to make tourism better for tomorrow.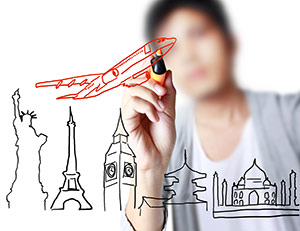 Location, Location, Location
Rome's beauty is evident in the touches left by its great rulers – from emperors to popes – and the great artists they supported. But it's not just the sights that make Rome special. Rather, it's the way the city appeals to all your senses reminding you constantly:  History is long, life is short -- Stop, Rest, Enjoy! A walk through the ancient city center takes you from the Colosseum of 80 AD to the balcony of Mussolini's speeches in the 1930s, from the monumental Trevi Fountain to the Spanish Steps of the 1700s, from shopping for Prada to reveling in The Pantheon of 120 AD, (still the largest unsupported dome in the world today).
As a student at AUR, you'll have time to see Rome not just as a tourist, but as a destination manager with in-depth knowledge of your subject. After that, you can branch out to the rest of the Italy, its islands (e.g. Capri, Sicily, Sardinia), Europe and the Mediterranean.
High prospect for jobs
Those preparing for a career in Travel & Tourism will find a ready market for their talents with 1 in 10 jobs on the planet coming from this sector.
Travel & Tourism generated US$7.6 trillion (10.2% of global GDP) and 292 million jobs in 2016 (1 in 10), according to the latest annual research of 2017 from The World Travel & Tourism Council, in conjunction with Oxford Economics. (www.wttc.org/research/economic-research/economic-impact-analysis )
By 2027, the sector is expected to support 380 million jobs.
Not only is tourism growing, but it's growing faster than other sectors. In 2016, direct Travel & Tourism GDP growth was stronger than the growth recorded in financial and business services, manufacturing, public services, retail and distribution, and transport sectors in 116 of the 185 countries, based on the WTTC's annual economic impact report. "As nations seem to be looking increasingly inward, putting in place barriers to trade and movement of people, the role of Travel & Tourism becomes even more significant, as an engine of economic development and as a vehicle for sharing cultures, creating peace, and building mutual understanding," the WTTC noted in its report.
The AUR difference: Preparing the leaders of tomorrow 
The rapid growth in Travel & Tourism has fueled the need for highly-versatile managers, entrepreneurs, creative thinkers and problem-solvers with excellent communication and customer service skills. For nearly 50 years, AUR has trained the leaders of tomorrow based on a multi-disciplinary approach and practical, real-world experience brought into the classroom by an outstanding international faculty.
AUR's Bachelor of Science degree in Travel & Tourism Management is the only bachelor's degree in tourism offered in Rome and is specifically designed to meet the needs of this modern, vibrant industry.  
 

Core courses include:
Economics of Travel and Tourism
Marketing for Travel & Tourism
Financial Accounting
Human Resource Management in Service Operations
Tourism Law & Policy
Writing for Business
Tourism Research Methods
Introduction to International Business
and Computer Applications for Business.
In addition, students can concentrate their electives in Food Tourism or Cultural & Heritage Tourism.
 
Classes which offer unique opportunities to explore Rome itself include:
Michelangelo in Rome
Renaissance Art from Florence to Rome
and Roman Cooking: What the Romans Ate and How We Know It.
Field studies include an 'Olive oil and wine tasting tour,' and visits to some of Italy's 48 UNESCO World Heritage sites (the most of any country in the world).
Class field trips for 1 credit include Vienna and Berlin.
AUR Internships & Alumni network
The travel industry is very diverse. It encompasses lodgings, transportation services, food and beverage operations, retail stores, and activities such as recreation, educational and cultural trips, business, entertainment and festivals.
Each of these areas has employment needs on several levels: sales, market research and development, event planning, packaging and advertising, customer service, operations and general management. Because AUR's Travel & Tourism degree focuses on business and management, students have many transferable skills to use across a range of job markets, including some not normally thought of in terms of tourism, such as government and non-profit sectors.
Rome's status as a capital city means that it is home to the political heart of Italy, as well as hundreds of foreign embassies, cultural institutions and NGOs. It is also the center for the Italian film industry and TV/Radio. All of these offer able opportunities for internships and AUR's Career Development and Internship department is here to guide students to the right choices.  
When it comes to your future career in tourism, all roads really do lead to Rome and a degree in Travel & Tourism Management at the American University of Rome.