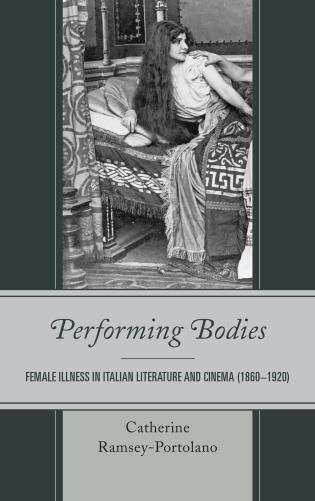 Dr. Catherine Ramsey-Portolano, associate professor and program director of Italian Studies at AUR, has published a new book, Performing Bodies: Female Illness in Italian Literature and Cinema (1860-1920).
This publication explores how female illness was portrayed in Italian literature and early cinema and makes the case that being sick had its advantages - sometimes even offering the female protagonist a way to become the master not only of her body but also of her story and destiny.
Ramsey-Portolano, who is American, joined the full-time faculty at AUR in 2008. This is her third book and continues her doctorate research in Italian literature, gender studies and cinema.
Starting with the 19th-century view of women's bodies -- their biological functions and malfunctions -- as seen by European scientists and philosophers, Ramsey-Portolano illustrates that even the greatest thinkers of the day (Freud/Darwin) denigrated the positive attributes of femininity. Sickness is shown to be either a consequence for women who transgress traditional societal roles, placing them in the role of powerless victim succumbing to illness due to societal pressures and limitations, or it is a source of liberation, giving women the possibility to take control of their bodies and demonstrate self-mastery.
 
"In those novels, through their illness, women somehow achieve and break out of roles and live a different kind of life or achieve their own personal aspirations," Ramsey-Portolano states. For example, illness may prevent them from fulfilling the traditional role of wife and mother - and thus free them to follow more personal desires.
The power of sickness is carried over into films where the diva, her illness, and her point of view are at the center of the action. This makes the female character the active one, advancing the story and providing a progressive model for female Italian viewers of the time. The best examples of this can be found in the silent films Tigre reale ('Royal Tiger') from 1916 and Malombra ('The Dark Side') from 1917. Both were books before they were made into films. In these novels, illness is cast as a punishment for the women who transgress social norms, whereas in the films, the backstory to the illnesses is explained, making the characters more sympathetic. In the book Tigre Reale, for instance, the character is a femme fatale – a seductress who breaks up marriages - who is "punished" with tuberculosis. But the film is more sympathetic, showing how she became ill – because she was betrayed in love – and thus explaining her cold and indifferent present.
For students and scholars, this new book offers a fresh perspectives on Italian literature, cinema, and gender studies of the late 1800s and early 1900s. As the author notes, hysteria was not only a women's disease. The book gives examples of men affected by it as well, but in those cases, it was because they were effeminate. So, the gender issue arises with "men who weren't really men" adds Ramsey-Portolano.
The book is published by Fairleigh Dickinson University Press and available on Amazon/Kindle and at this website: https://rowman.com/ISBN/9781683931317/Performing-Bodies-Female-Illness-in-Italian-Literature-and-Cinema-(1860–1920)