The Alumni department arrange alumni events across the globe.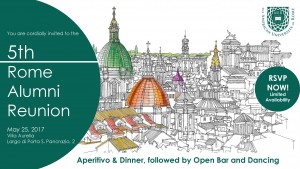 It is that time of the year… once again AUR Alumni can meet, eat and dance under the Roman sky. Come celebrate your time at The American University of Rome, see old friends and remember the wonderful days you spent in the Eternal City.
As in past years, we hope alumni will come from far and wide to celebrate the evening. We will have an aperitivo, seated dinner, awards program, dancing, and open bar – not to mention partaking in world class views of Rome from the terrace of Villa Aurelia.
Join us!
If you have questions regarding the 2017 Rome Reunion, please don't hesitate to contact: alumni@aur.edu
2017 Rome Alumni Reunion Committee
Bojana Dulanovic (Co-chair)
Lauren Jolliffe (Co-chair)
Nohea Reveley-Mahan (Co-chair)
Susan Johnson (VP for Development and Alumni Relations)
Laura Estrada Prada (Alumni and Development Assistant – Art History, 2016)
Maurizia Garzia (AUR President's Chief of Staff)
Eleonora Passarelli (AUR President's Assistant)