Alyssa Thiel: M.A. Cultural Heritage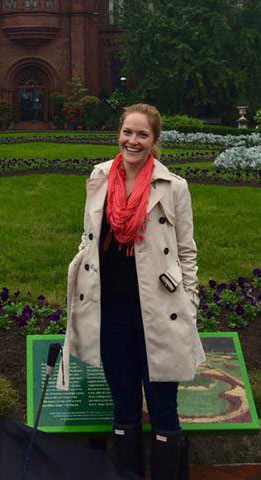 In Fall 2016, I had the amazing opportunity to intern for the Smithsonian Cultural Rescue Initiative (SCRI) as part of the requirements for the Sustainable Cultural Heritage MA. I worked closely with the Program Coordinator for SCRI on the backend logistics for two conferences hosted by SCRI in Washington, D.C. last October. One conference focused on the formation of a Syrian Cultural Heritage Center in Istanbul and the other was an Andrew W. Mellon Foundation sponsored meeting to address concerns about cultural heritage preservation during disaster situations domestically in the United States. Culture (in crisis both domestically and internationally) is one of the areas of focus that I have pursued in my career since graduation, so this was an incredible experience. I worked remotely with cultural heritage professionals around the world to coordinate travel arrangements, manage the attendee list and provide information for the attendees. In October, I went to Washington, D.C. to prepare for the conferences and assist and coordinate day-of logistics. I had the opportunity to meet the scholars and professionals from around the world that are currently in the cultural heritage field making a difference. This experience was essential for me, both professionally and personally, and one I would never have had, were it not for The American University of Rome's Sustainable Cultural Heritage Masters program.
Currently, I am working for Princeton University as the Campus Collections Assistant for the Princeton University Art Museum. I work with the art located on the Princeton campus, writing content for the website, taking photographs and working with well-known artists on new commissions for campus. I also work in the Art and Archaeology Department, primarily with the archaeology archives. In this role, I have been fortunate enough to have the opportunity to work with both Monuments Men archives and photographic archives documenting sites in Syria. I am also working on projects with the Penn Cultural Heritage Center at the University of Pennsylvania focusing on culture in crisis in Syria.