Summerside International Film Distribution Agency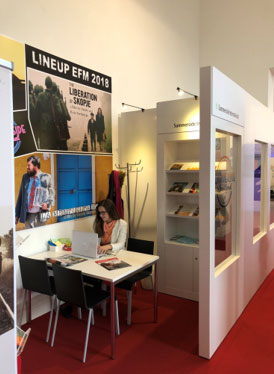 This spring semester I decided to further enrich my undergraduate experience with an internship. A proposal by the Internship Program led to my interviewing with Summerside International—a film distribution agency—and it's been three months since I joined the company. Working at Summerside has been an incredible opportunity to discover a side of the entertainment world that I was not aware of and provided me with a potential career path I hadn't previously considered. Now, at Summerside, I'm working as a sales assistant and dealing with international distribution.
Thanks to my supervisor, Francesca Manno, I am learning the art and craft of promoting and pitching feature films, as well as negotiating distribution deals with buyers. Being a Film and Digital Media major and a Marketing minor, film sales is clearly the perfect field to best combine and implement my studies.
The best part of my internship was the chance to travel to film markets. In February, I attended the European Film Market in Berlin and in a few days, I am going to the Marché du Film in Cannes. My experience in Berlin was beyond words. I assisted the CEO during meetings with clients while fully embracing the hectic atmosphere of the market.
I would recommend doing an internship to anyone at AUR. A work experience makes your academic career much more meaningful, it helps you strengthen your skills and learn new ones and might facilitate finding your way once you graduate.