Euro-Gulf Information Centre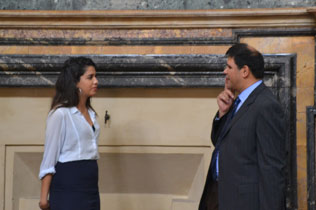 At the beginning of March 2018, I began my internship at the Euro-Gulf Information Centre where I assisted the communication officer, Martina Conte.
 
I had wanted to intern for the North Atlantic Treaty Organization but as a Libyan, I was not eligible because Libya is not one of the member countries. EGIC, however, turned out to be a perfect fit. The Centre began as a legal association in Rome, Italy, and draws on the expertise of scholars, policy makers, economists and members of European and Gulf civil societies to enhance inter-regional relations. As an International Relations student with a focus on Middle Eastern affairs, I was very excited about the opportunity and it was exactly what I wanted.
 
After two months I have already learned so much. I am very grateful for this space that allows me to grow, make mistakes and learn all about what it means to be part of a working environment. My responsibilities include translation, overseeing social media, and general support.
 
Not only has this internship greatly honed my skills in translating English into Arabic and vice-versa, but as an International Relations student, it has allowed me to meet many prominent figures in the field. Working amongst such accomplished and diverse people has made this an unforgettable experience.