Alumnus Simone Amorico, owner of Access Italy, a top luxury tourism company with clientele including Oprah and the Obamas, returned to AUR recently to share his enthusiasm and experience in this rapidly expanding sector with students in Marketing for Travel and Tourism.
The 2004 graduate in Business Administration discussed the lessons he has learned since founding the company 12 years ago and the trends shaping the industry today.
"We're still a young company that is trying to grow and we're very ambitious," said Amorico, who runs the business with his father and brother. "Mostly, we just like to have fun and make sure the client leaves this country with a beautiful smile. If we can accomplish that, we're happy."
 
The rise of Access Italy 
After graduation, Amorico worked for two years as a professional tennis coach, traveling the world with a Japanese player, but he realized that wasn't the career for him. Returning to Rome, he was wondering what to do next when his mom suggested he work for his father's company. His father, Angelo, was a driver/guide for high-end hotels in Rome. Building on his father's extensive client list, Amorico decided to expand the business with more tour guides and drivers. With his born-salesman talent and a lot of grit, Amorico created and built Access Italy into one of the country's premiere luxury tour operators, catering to VIPs, celebrities, honeymooners and small family groups. His clients – mostly Americans -- expect impeccable service and a trouble-free vacation with memories to last a life time. Their budget is around $1,000 per night for a hotel room and they are willing to pay top dollar to save time and have experiences tailored to their interests.
Since 2006, the company has steadily grown, starting with two employees working out of his dad's apartment to a staff of 12 in an office in Rome's historic center, and 100 freelance tour guides and chauffeurs throughout Italy.
Amorico credits his success to his clients, who have given him advice and mentorship over the years. "I'm lucky to spend time with these successful people who, even on vacation, speak about business," he said. In fact, the company's name came from a client who remarked that Access Italy's personalized, exclusive tours took people behind the scenes of Italy, like the American TV show, Access Hollywood, with celebrity news. Another client, Gary W. Keller, founder of US-based Keller Williams, the largest real estate company in the world, taught him how to use company profit-sharing plans to retain employees.
Being the travel agent for the rich and famous has also helped the company garner fabulous press from Travel & Leisure, Forbes and The New York Times, among others. The list of celebrities includes Ben Stiller and Owen Wilson who were squired around by Access Italy while filming Zoolander II.  (By the way, if you would like to watch The Godfather in the same private Sicilian villa used for the Godfather II film, just call Access Italy.)
Recently, ExtraTV, the US entertainment TV news program, did a segment on the company's newest adventure: Helicopter tours of vineyards in Tuscany. The show is scheduled to air on NBC network affiliates in late 2018.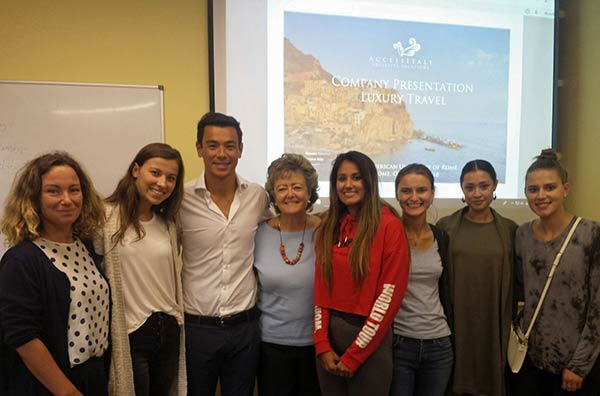 Tips for success
Keeping clients happy and staying ahead of the competition requires constant vigilance, innovation, and market savvy, said Amorico. Clients can book their services directly on their website, through a travel agent, or a hotel, but most new clients come through word-of-mouth referrals. "Trust, relationship, and credibility are fundamental," said Amorico, who spends up to four months a year visiting clients in New York, Miami and Los Angeles to maintain his friendships with them. "In this industry, it's pretty easy to enter," he said. "You can put up a nice website and with social media, Trip Advisor, all the tools are available to everyone for free.  In fact, once we started growing, half of our employees left to start their own companies." 
It can also be easy to fall into the trap of innovating for innovation's sake. But innovation is only worthwhile if it serves the client, he added. "Anticipation is the most important thing," he said. "It's not easy offering these experiences. They're hard to manage and it's hard to get into places." Anticipating, or "scanning" as the class called it, means watching the market and being proactive to create opportunities before your competition. This requires long-term relationship building with clients and suppliers, sometimes years in advance, he said. For example, his Tuscany helicopter tours are a result of a win-win partnership he created with fashion designer Ferragamo (also a tourism player) and pasta manufacturer De Cecco. Both estates already had a helicopter and, to keep it running well, needed to fly it regularly. So, Amorico suggested, why not use it for a fun day trip from Rome? The estates also liked the publicity and sales from celebrity/VIP visitors.
Amorico also teamed up with celebrated winemakers, Antinori, to be the only tour operator allowed in their private wine cellars. That arrangement hinged on a friendly promise, made months in advance, that Access Italy would have exclusivity if Antinori's wine, Solaia, hit the charts as the best in the world. When it did, Amorico was ready and waiting.
He also trains his staff to anticipate and respond effectively to client needs. His tour guides, for instance, must be storytellers -- energetic, entertaining and flexible – they have to do more than just recite facts or stick to a routine itinerary.
 
Tourism trends to watch
In 2019, Access Italy expects to continue its upward trend, hiring more staff and offering more destinations, said Amorico. Most exciting of all, it will become a member of Virtuoso – an exclusive, worldwide network of luxury travel agents – generating millions of dollars in new business. His company is one of only a handful in Italy to have this honor. Virtuoso's membership is highly selective and it took Access Italy five years to win their approval.
Luxury travel is also expected to grow, helped by a strong US economy, he added. In Italy, the regions of Piedmont, Puglia, and Sicily are rising in popularity.  
Another trend is "experiential tourism:" clients are seeking more hands-on experiences that put them in direct contact with the culture and its people. "People want to get their hands dirty," he said. "Before, in luxury travel, there was a distance between the client and the hotel. For example, 10 or 15 years ago, if a client wanted truffles he would ask the hotel to go out and get them. Now, the client is putting on boots and going out truffle hunting with the hotel owner."
Amorico's business degree from AUR has served him well and in the future, AUR could help him even more. This past Spring, in response to job market trends, and to build on its strengths in a number of disciplines, AUR launched a new Bachelor's degree in Travel and Tourism Management, with concentrations in Food Tourism or Cultural Heritage Tourism. All economic indicators show that tourism is growing and Rome, with its 9+ million international visitors per year, is one of the best places to study and work in the field!