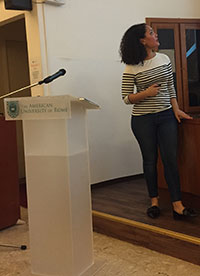 AUR Alumna and Business Club founding member Bronwyn Sweeney (BUS '07) flew in from London, returning to AUR to engage students through a discussion of the day-to-day life of an advertising copywriter. The Auditorium was filled to overflowing as she shared her experience, expertise and enthusiasm, and described her job as senior creative copywriter of the successful London advertising firm MullenLowe.
Bronwyn opened with a discussion of all the places today's consumers find information, which is no longer simply the TV screen.  Advertising has been transformed by popular social media platforms, and the so-called "double screeners:" consumers whose attention span is "that of a goldfish" and who use multiple devices simultaneously. Consequently, advertiser shave had to adapt, developing new ways to be relevant and capture the attention of and increasingly distracted and jaded target audience. Bronwyn described how innovation has fostered new approaches. ,The multiplication of the number of possible channels to reach consumers is forcing, advertisers to ensure  their message is on target, relevant  and powerful. She highlighted the fact that design aesthetics are just as important as timing and placement of an ad.
 
Bronwyn explained that today's brands are forced to redefine who they are in order to break through the clutter and increase their relevance to consumers Bronwyn  shared some of the work she had done for brands such as Magnum, Tresemme, Sloggi and Haig Club. These companies had to be true and honest to themselves to highlight what their consumers love about their brand. This also included finding the right "brand ambassador" or spokesperson, who resonates with the target audience as a true embodiment of the brand.
 
Bownywn wrapped up the talk by giving crucial advice to students.  She encouraged them to enjoy their precious time in Rome, be nice to everyone and take risks. Students were engaged throughout and many stayed behind after the talk to ask questions. The Sweeney lecture was the second in the Fall series of Business Leader Lectures. Next up is Professor Maheshvari Naidu who on November 9th will discuss "Repositioning Memory and Heritage: Anthropology of Tourism at Robben Island Museum" on November 9th. Don't miss!
Noy Dragushansky, Student, B.S. Business Administration.