By Julia Conners, Principles of Marketing, Spring 2017
An afternoon full of beautiful sights, wonderful food, flavorful wine, and intriguing conversations sounds like the perfect way to spend any sunny day in Italy. All of this and more was experienced by the Food Tourism and Principles of Marketing students during the field trip to Fontana di Papa winery located in stunningly beautiful Castelli Romani just 40 minutes away from Rome. The wine and olive oil tasting tour was by no means a tour where we just sat, drank and ate. Our group was guided around the olive groves, vineyards and the winer,y by a certified sommelier Nina Farrell Jacobini. Her knowledge and passion for olive oil and wine animated our day.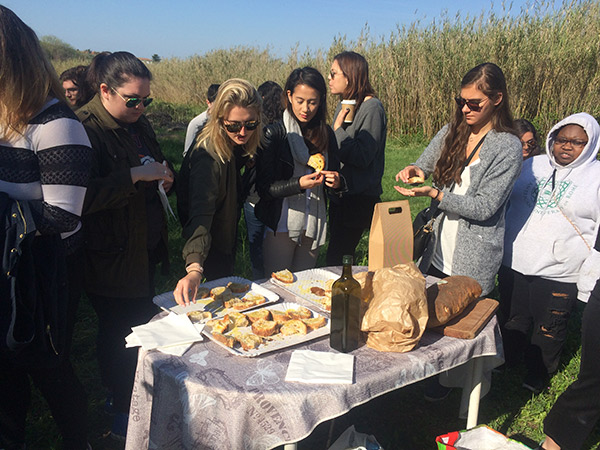 The tour began at the olive grove owned by Azienda Agricola Jacobini, where we learned about the various types of olive trees and how olive oil is extracted, in order to make the extra virgin olive oil. We had the chance to try this incredible oil with crunchy, fresh bread baked in the oven. It was a truly perfect match. After this, we went to Fontana di Papa winery where we saw how the wine was bottled and packaged in order to be sent off to the company's many customers around the world, including countries like China, Thailand and Canada.
Moving on from the wine bottling plant, the group had the chance to taste four types of wine: Colli Albani a typical white wine with a very light and soft flavor, usually preferred for aperitivi due to its delicate taste; Doc Roma a white wine, which has a much fuller structure, therefore is mostly consumed with a fish entry dish; Cesanese the most traditional red wine produced by Fontana di Papa, which has a much stronger fruity and flowery taste and Doc Roma a complex full body red wine tasting like a mix of chocolate and smoke. The wines were paired with local food, such as porchetta, cheese, prosciutto crudo, bread and pizza bianca.  It was interesting to find out how different and unique each wine was compared to others. I learned that the amount of time and even the barrel the wine is stored in affect the taste and quality.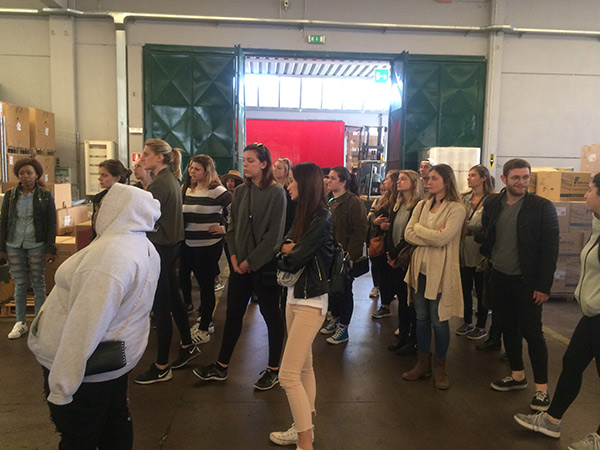 The day concluded with a marketing presentation delivered by Fontana di Papa's marketing director. He discussed in detail different markets Fontana di Papa targets and their current marketing strategy.
After the discussion was over, we had the chance to buy the olive oil and wine, which, not surprisingly, many of us did! Overall the day was a success.  Not only did we learn more about wine and olive oil, but we had the chance to experience how it is made and try some of it as well. I would definitely recommend this trip while in Italy.