In Summer 2018, Business Administration student Alana Lennon completed an internship at Agriturismo Diacceroni in Tuscany.
The Agriturismo Diacceroni is an organic farm in Peccioli, Italy located between Pisa, Siena, and Florence. It consists of a bed and breakfast, three farms, six 'glamping' tents, and one villa. Diacceroni is larger than your typical Agriturismo, hosting about 200 guests during its high season. Diacceroni is often remembered by guests for its beautiful views that overlook endless rolling hills and the products made available to guests during and after their stay. Diacceroni offers a variety of wines, jams, pastas, sauces, soups, honeys, and breads. They also offer activities and excursions for their guests such as truffle hunting, cooking courses, wine tastings, and three parties a week.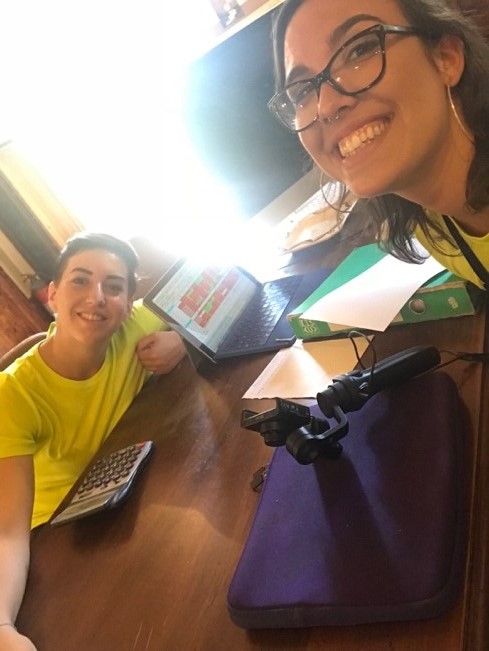 When you arrive to an Agriturismo located in the middle of Tuscany, you convince yourself that you will never want to leave and that you could never in your life find a more relaxing job. Was I really going to work? Sure, I knew I was going to manage their social media and assist with their marketing, but didn't that mean simply creating content and taking Instagram-worthy photos?
I originally arrived to Diacceroni with the intention to put into practice and learn new Marketing skills that would help me with my concentration in Social Marketing. Instead, my roles at Diacceroni became extremely broad, and I assisted with customer service, hospitality, event planning, and inputting purchases. I was able to leave my internship with more knowledge about the hospitality industry and travel and tourism Dos and Don'ts. As a result, I was able to apply it to other aspects of my degree, such as my minor in Travel and Tourism.
A day in the life as an employee at Diacceroni consisted of working with clients, assisting with guest requests, inputting all guest purchases, checking guests in and out, organizing events, updating social media platforms, creating promotional flyers, and assisting with the functionality of their newly launched app. During my time, I also helped transition their new booking system and ensured that all bookings for the year 2019 were successfully transferred.
During my time at Diacceroni, I was able to immerse myself into an intercultural environment and improve my Italian communication skills. The language barrier that I faced when I first arrived was something that I felt would make me inept at my job; however, the constant need to understand and communicate with Italian speaking co-workers enabled me to improve over time; something that I would not have been able to experience otherwise. Diacceroni also taught me to have patience when working in the hospitality industry, how to market for travel and tourism, and the Dos and Don'ts of running a Business in Italy. My experience at Diacceroni was stressful at times due to the broad job title and responsibilities that I had, but a hands-on experience, good or bad, is always something to learn from and something to be grateful for.
- Alana Lennon