International Law expert, Maria Beatrice Deli, engaged students during her lecture on the challenges that businesses face in attempting to balance the quest for profits and the goal of respecting human rights. The room was filled to capacity as Ms. Deli led students on an exploration of the UN's sustainability goals, and efforts by corporation to comply.
 
Ms. Deli opened with a discussion about the importance of ethical business practices to uphold the fundamental values of human rights. Ms. Deli provided evidence of ethical and unethical practices, with illustrations of child labor sites, inhumane working conditions and exploitation of the natural environment, all of which are evident in today's world. Students were captivated by the images and were able to reflect on these bitter realities.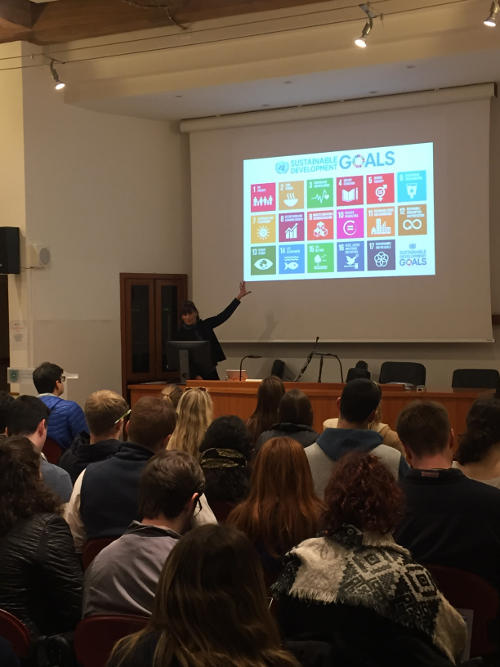 Ms. Deli then discussed efforts to mitigate these issues  both on the business level and in the international realm of the UN. In the business sector, corporate responsibility, adoption of ethical standards of code of conducts and sustainable practices are becoming of more importance. Internationally, the UN has set forth a 2030 Agenda of "Sustainable Development Goals". The collection of these 17 global goals link the private sector with sustainable development. Real world issues such as poverty, hunger, health, education, climate change, gender equality, water, sanitation, energy and social justice are the focus of the UN efforts.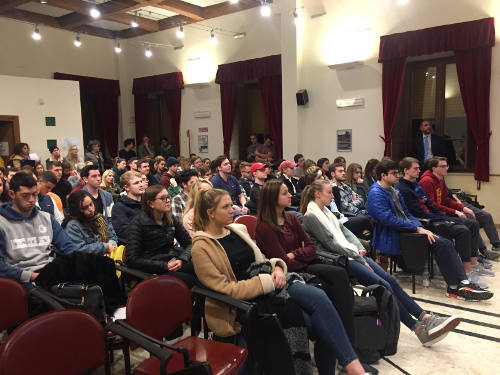 Ms. Deli wrapped up the interesting lecture by stressing the importance of transforming our world. Corporations and individuals need to work together in order to combat inequality, preserve the environment and foster sustainable economic growth. Students were intrigued throughout the lecture and several stayed behind to ask questions.  
This lecture was the first in the Spring Business Leader Lectures. Next up, on March. 12th, is AUR Alum Fabio Evola (BUS '00), Retail Manager of Michael Kors Italy, who will discuss the modern-day challenges in fashion retail. You won't want to miss it!
Article by Noy Dragushansky (B.S. Business Administration)