Update: Trespass won the 'Best Short' Critics Award at the Mediterranean Short Film Festival on September 6th.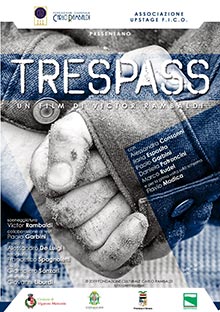 TRESPASS is a short film that deals with a dystopian future where machines (robots) have completely taken over human life, establishing a cruel dictatorship where the only thing that matters is Productivity. 
Human jobs have been lost on a grand scale in favor of the machines, that can, of course, do them better and with higher efficiency.
Our protagonist, a factory worker, receives a notice that he is no longer needed on the assembly line, and therefore - like so many in his district - he must be disposed of by taking a de-vitalizing substance that leads him to death. He attempts to rebel by escaping to the ocean where he attempts to rekindle for the last time an old child memory, sand castle making, but it's useless. A killer robot reaches him confirming the death sentence.
The premiere is set for April 4th at the University of Ferrara.
Award-winning director/screenwriter Victor Rambaldi is a University of California, Los Angeles film school graduate and began working as assistant director at MGM Studios in Culver City, California, on the TV series, "Knots Landing". During his career, he has worked on films and a plethora of projects, ranging from multi-media, features, animation, live theater, and commercials, both in the United States and in Europe. He is also a writer of twenty-one children and young adults books for several publishing houses in Italy. He is the recipient of many Italian and international awards. He resides in Rome, Italy, and in Los Angeles, California.