Amanda Shaw: B.A. International Relations and Global Politics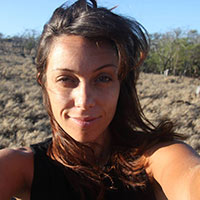 For the past ten years Amanda has researched and managed international programs on gender, social and economic justice. The main aims of her work have been to help transnational feminist and queer movements acquire resources, to strengthen the links between different social movements and to bring gender and social perspectives into policy spaces.
Amanda has been active in feminist, queer and other social movements, including working with LGBT movements in Argentina during the campaign for marriage equality (2009 -2011). Recently, she has been part of queer feminist and migrants' rights organizing in Tuscany, Italy.
Amanda recently completed her PhD in Gender Studies at the London School of Economics (LSE), where she currently works as a graduate teaching assistant for courses on gender theory, sociology and feminist economics. She is passionate about social justice, a proud queer feminist and excited to work with her alma mater to help create safe, inclusive spaces for AUR's hugely diverse students and staff. Amanda, in fact, held an LGBTQ workshop at AUR this fall, sharing her knowledge and experience with the current AUR LGBTQ+ Club members. The workshop was organized by our Student Life Coordinator and Engagement Specialist, Kathy Bemis.