Dana Phelps: B.A. Art History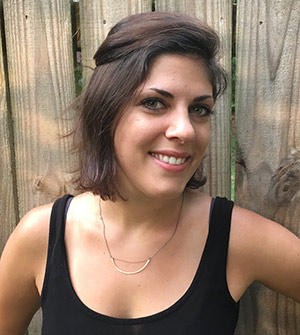 Since moving on from AUR eight years ago, Dana Phelp's life has been chock-full of experiences. After graduating in Art History in 2008,  her career has led her from Rome to Butrint, from London to Washington D.C. She is currently in California, at Stanford University, where she is pursuing her PhD in Anthropology.
Dana Phelps graduated Cum Laude from AUR in 2008 with departmental honors in Art History and a concentration in Archaeology. She went on to receive an MA in Cultural Heritage Studies from UCL in London before working for UNESCO, The Butrint Foundation, Gjirokastra Conservation & Development Organization, and as a contractor for the U.S. Agency for International Development in Washington, D.C. She is currently working on her PhD in Anthropology at Stanford University, where she also has worked for the Stanford Program on Human Rights.
 
Would you tell us a little about your research?
My research looks at the impact of conflicting Europeanization and Islamicization processes in Albania through the lens of cultural heritage: within museums, through memorials, and through historic restorations. I examine how competing heritage and cultural development projects such as mosque constructions and Ottoman-period restorations funded by Turkey, opening of communist-era sites, and UNESCO initiatives create tensions in Albania. For example, how do these projects impact religious communities and religious extremism in Albania, given its multi-religious society?  How does Albanian society react to the controversial opening of communist-era sites? Or how do strengthened ties between Albania and Turkey impact its international relations with Greece, the E.U., the Vatican, the U.S., and other key international players? 
 
You will soon be in Albania for your dissertation fieldwork plus both a Fulbright scholarship and a Title VIII State Department fellowship you were recently awarded. Congratulations! What does your 15-month long research trip have in store?
Thank you! It's sure to be a great adventure. Much of my 15-month research trip will be decided for me, while in the field, depending on what leads I get and which direction my data takes me. The first six months I will be in Albania's capital, Tirana. Here I will be setting the stage for my research through interviews with key NGOs, government agencies, and academics. During this period, I will be on the Title VIII fellowship, which offers me intensive language training. I will spend about 10 hours a week in private Albanian lessons. After the first six months, I begin my nine-month Fulbright scholarship. At this point, I will dive deeper into my two field sites, the cultural capitals of Shkodra (in the north) and Gjirokastra (in the south). Both sites are very different politically, socially, culturally, materially, and religiously. Through intensive ethnographic fieldwork at each site over the course of nine months, which will include oral histories, mapping of heritage sites and initiatives, and observation of the communities, I will be able to draw conclusions on my research questions. It is basically a lot of independent work that requires much diligence!  
 
What do you do in your free time, when you have it - do you have any interesting hobbies or off-the-wall passions?
There is a lot of burning out involved within the course of the PhD. So, much of my free time is spent recovering! I am fortunate to have a couple of hobbies that do not demand much of me in terms of planning, and are sort of basic necessities in life as well. One of them is my life long passion for cooking. I spend a couple of hours each night, and sometimes more, in the kitchen. I'm lucky to have a husband with a good appetite who enjoys being my most loyal customer! I also am a runner. Currently I am training for a half marathon in Santa Barbara before leaving for Albania. The running really helps burning up any pent up stress from the program, and it also helps provide mental clarity I find. 
 
Stonehenge – constructed by aliens or Merlin? used for burials or celestial observatory?
I love this question. I cannot give you a definitive answer as prehistoric archaeology is not my expertise. However, my archaeological "hunch" (if there is such a thing), is that it originally was used for celestial observation. I also completely refute contemporary explanations that archaeological sites for which we do not have conclusions yet were built by aliens, such as the pyramids at Giza. I know it is hard for us to imagine that we are not necessarily more advanced than the peoples of the past, but I stand by the fact that we still have much to learn from them and that there is no given that the future equals cultural advancement!
 
Atlantis – did it exist? If so, where?
If I take a one-dimensional point of view, I would say no. But belief has driven many archaeologists to ask different questions, leading to many great discoveries. I do have a fascination with Atlantis, and I want to say that the stories are grounded in some sort of reality. As far as to its exact whereabouts, we would have to ask Plato!
 
Lastly, and most importantly (while at the same time least relevant): Bigfoot – real?
While I don't think Bigfoot is real, every time I drive through the Redwoods and up into Oregon I contemplate it, and I also have my eyes open. So, it seems I like to keep the mystery alive!