Lee Chapman: B.A. Interdisciplinary Studies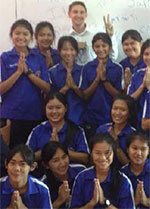 Within AUR's Interdisciplinary Studies program I focused primarily on Classics and English. I minored in both fields of study. I also studied Art History and Italian language and nearly minored in both of those.
After graduation I worked several jobs, one in a real estate office and another in a sign production factory. I missed being around the educational process and I gravitated toward substitute teaching at the same school (my brother is a fully tenured teacher). I taught, as a stand-in teacher, a wide variety of subjects for the eight months I was home in California. I found I had an affinity for teaching English and ESL that stems from my passion for the English language - and language learning in general. I was most interested in taking a teaching position in the Far East because it is a world I knew nothing about.
My time at AUR impressed on me the idea that the best way to learn about a culture, its language, and its history was to go and spend time in the region of the world that interests you. It is wonderfully challenging and exciting living in Thailand. I live in a small town and not much English is spoken here so I am being challenged to learn the culture and language in order to make friends and eat dinner. Everyone rides scooters here in Thailand, just like in Italy. Family and dining are central to Thai culture, just like Italian culture. The people here are very kind and welcoming. I certainly feel my time in Rome helped me prepare for this journey. Everything from the visa process to simple things like grocery shopping in a foreign country are routines that I have been through and am comfortable doing. One of AUR's principal goals is to prepare students for lives and careers around the world and it absolutely accomplished this goal for me.