Yoga classes at the AUR Club are taking place on campus every Monday and Tuesday, while Pilates takes place on Wednesdays.
Classes are held from 7 to 8 pm on the Building B terrace (weather permitting) or in classroom B304.
All are welcome at these classes, whether you are a beginner or a pro. Using a personal mat is suggested, but we're happy to cover you if you don't have one.
If you are interested in attending, please stop by the Student Life office or email s.cristalli_ext@aur.edu for further details.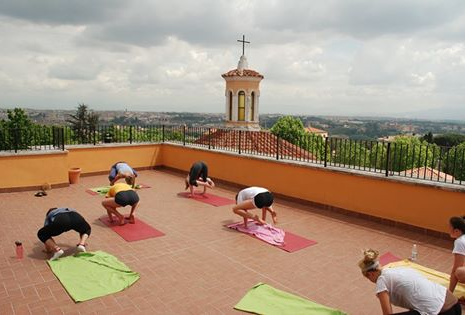 "Since I like being active, I joined pilates to stay in shape. This would also be a nice way to meet people outside of my classes. [This] has enhanced my time at AUR by keeping me active and introducing me to new people with different backgrounds but similar interests." - Ellie Wedge
Yoga and Pilates boost both the brain and the body, making it the perfect exercise for students. Below are just a few of the many benefits of these practices.
Exercise boosts the production of new brain cells and protects existing cells, aiding memory and learning. People also have significantly superior brain function after a mindful movement practice like Pilates or Yoga compared to aerobic exercise.
Learning new movements in Yoga and Pilates challenges both the body and the mind.
Yoga and Pilates activate the core, which in turn activates the nervous system, resulting in better communication between the brain and the body, with the added bonuses of stress relief and mood-boosting.
The concentration required in Pilates and Yoga is a form of mindfulness, and there have been many studies on the positive impact of this, including anxiety relief, insomnia relief, stress relief, lower blood pressure, and unlocking creative thinking – to name just a few.
Both Yoga and Pilates improve flexibility, muscle strength, posture, blood circulation, and lung capacity.