Philopateer Dimitri: B.S. Business Administration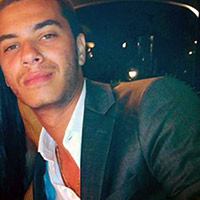 I started working for Jones Lang LaSalle (JLL), a financial and professional services firm which specializes in commercial real estate, but still offers the same professional services for residential real estate, offices, and hotels. JLL also offers investment management services. It has almost 230 offices worldwide, serving local, regional, and global real estate needs in 80 countries. 
I am a Retail Analyst at JLL. I consult, advise, and lease for top notch local and regional clients. However, due to the current workload, I have not yet taken on any multinational corporations. 
I consult and advise on what the project should entail, whether it's a mall, a retail strip, or a commercial plaza, in terms of the tenant mix (brands within the development), financial projections, footfall, catchment analysis, expenditure, demographic analysis, etc. Often, I conduct research within JLL through our various worldwide offices, asking UK, Singapore, or the Turkey offices for case studies on similar projects to the one I am working on. 
Usually, what follows is contacting the retail groups in the Middle East (Zara, Mango, H&M, Starbucks, Carolina Herrera, Ralph Lauren, Burberry, Hamley's, Debenhams, just to name a few I have worked with), and arranging a meeting to present their proposed location within the layout of the development plan, and later follow up from there. 
I came across JLL first through a friend that works there, I was instantly interested in the company and its services since it is a Fortune 500 company. Then, I applied through LinkedIn and asked my friend there to boost me with a recommendation to the HR department, and 4 weeks later I was on my way to work. 
AUR definitely prepared me for such a role. Throughout my experience at AUR, I was lucky enough to have top notch professors, who have influenced me and prepared me to take on such a position: Prof. Fitzsimmons, Prof. Pollon, Prof. Luzon, and Prof. Sonnabend. 
I do use some of the main concepts discussed in my business classes, such as conducting a SWOT analysis, a PESTLE analysis, and applying new leasing strategies. Not only that, but you know how we used to hate presentations at AUR? Yeah they have certainly helped shape my confidence and presentation skills today. I do lots and lots of those, but the difference is you present to the Board of Directors of your client, to your client, and even in the weekly staff meetings, where formatting and aesthetics become 10x more important. 
In a nutshell, AUR has helped shape my experience in multiple ways, not only theoretically, but also socially. I am able to carry a conversation with anyone, anywhere around the globe, literally.