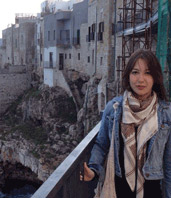 Bethany Eigenfeld. Food Studies.
I was drawn to the Food Studies graduate program at AUR because I've always had a strong desire to work in humanitarian aid. Through the years my goals have changed in scope and grown more specific; after serving a tour in Afghanistan with the US Navy I felt a deep obligation to learn more about Afghani people, and the Islamic worldview. I sought to widen the lens through which I understood Western interaction with the Islamic world, especially American foreign policy and the use of cultural diplomacy.
After leaving the Navy I focused my Bachelor's on Islamic World Studies as well as Peace, Justice and Conflict. I began to consider the issues plaguing refugee camps near conflict zones, as well as the migrant camps throughout Europe which have greatly increased with the post 9/11 fallout in the Middle East and North Africa. Consistent food and water supplies are top priorities for maintaining any quality of life in such camps; the opportunity to grow a sustainable source of food breathes new life into camps often bereft of the most basic human needs. This concept will be the direction of my studies at AUR.
After completing my undergraduate studies I spent the summer as an intern on a certified organic vegetable farm and learned about the production side of a small farming operation. I am at AUR because the Food Studies program will help me combine my skills and interests in sustainable food production and humanitarian aid within the Islamic world. I hope to use these skills to effectively implement small, locally grown food operations in the places that need it most.
---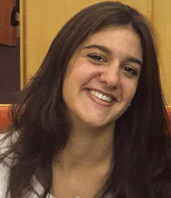 Giulia Tufano, Rome, Italy. Food Studies.
I have a Bachelor's degree in Economics which I obtained in November 2014 at the Università Europea di Roma. I was and am a highly motivated and very ambitious student and have always demonstrated initiative and natural ability to work individually and in a team. I am very willing to learn new things and to achieve results.
During my free time, I plan and manage my time to achieve a good balance between my studies and maintaining other interests, such as sports, namely swimming and running, photography and reading.
In November 2014, I was offered a six-month internship in the United Nations, International Fund for Agriculture Development (IFAD) in Rome. Working in IFAD has offered me a unique opportunity to work in a professional and multi-cultural environment. In addition, working in this environment has given me the opportunity to share my opinions and ideas and therefore to grow both professionally and as a human being.
My background in Economics, the working experience in IFAD and my multiple travelling experiences all over the world have helped me to understand and develop a strong will to continue to pursue my dream to work in an international environment. This is also one of the main reasons why I am attending the Master in Food Studies at the American University of Rome.