The American University of Rome's Office of Alumni Relations helps and supports our worldwide community of alumni through increased opportunities for meaningful engagement, both online and offline.
Alumni Reunion Weekend: May 23rd - May 26th 2019
On the occasion of AUR's 50th Anniversary, we are extending our annual Alumni Reunion into an entire weekend! This will begin on Thursday, May 23rd with an aperitivo and introduction to the fascinating and hitherto unknown history of AUR; on Friday we will take our Alumni to Frascati for a wine-tasting tour and lunch, and will arrive back in time for Commencement; the annual Reunion party this year will take place at the Terrazza Caffarelli in the heart of the historic center; and the Reunion will close with a picnic and barbecue in the campus garden. We also have three Alumni Awards to bestow upon former students who have continued to support AUR in one way or another since graduating.
For full program details, information on how to purchase tickets, and to submit your nominations for the Alumni Awards, visit auralumni.com.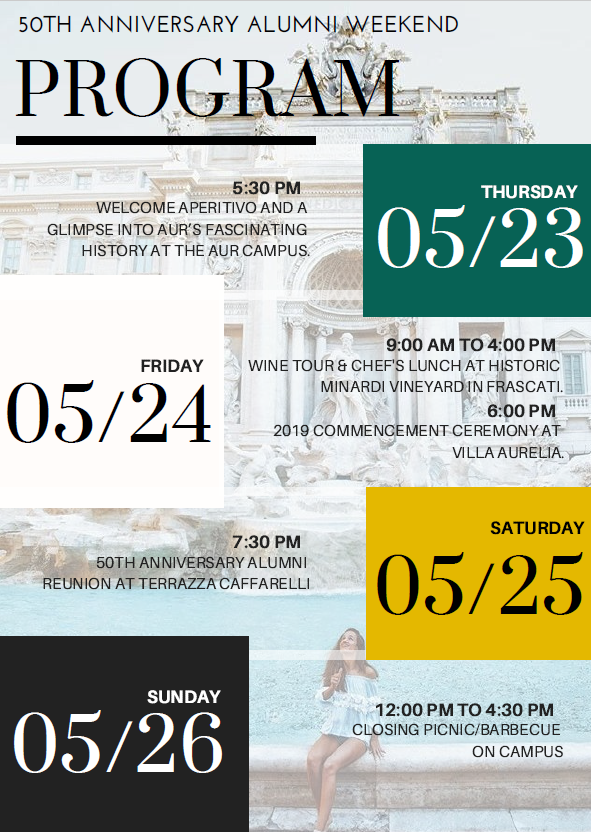 ---
AUR Alumni come from and live all around the world. Our mission at the Alumni Relations Office is to strengthen the bonds with and between our Alumni, acting as a liason for the exchange of knowledge, ideas, opportunities and memories. AUR is not only an academic institution, it is a place where many have found lifelong friends and lifechanging experiences. But why do we want to re-connect with our Alumni? Because we believe that our community is our greatest asset, and we are proud to say that our Alumni are a huge part of that community.
The American University of Rome's Office of Alumni Relations:
Keeps Alumni informed about programs and activities of the University;
Creates connections between people who share AUR experiences;
Organizes events around the world aimed at strengthening the bonds between Alumni and AUR;
Listens to Alumni;
Showcases stories of personal and professional success of Alumni.
Sign up for our monthly newsletter
Contact the Alumni office
Wolftracks: Spring 2019