"Yes, I have finally arrived to this Capital of the World!"
Overview
The university is an urban campus and the compound is composed of five nearby buildings. The main campus is formed of two buildings, an auditorium and a spacious garden. Building A hosts administrative and faculty offices, student services, and the main computer lab whilst building B has the bulk of the classrooms, laboratories, and faculty offices. Evans' Hall, a liberty villa of 1920, is the site of the library, student lounges and a beautiful garden. Carini 23, a five-storey building of the '70s designed in the style of Italian architect Paolo Portoghesi, is the location of design studios, faculty offices, and the Battista Multimedia Laboratory, a state-of-the-art lab for film production.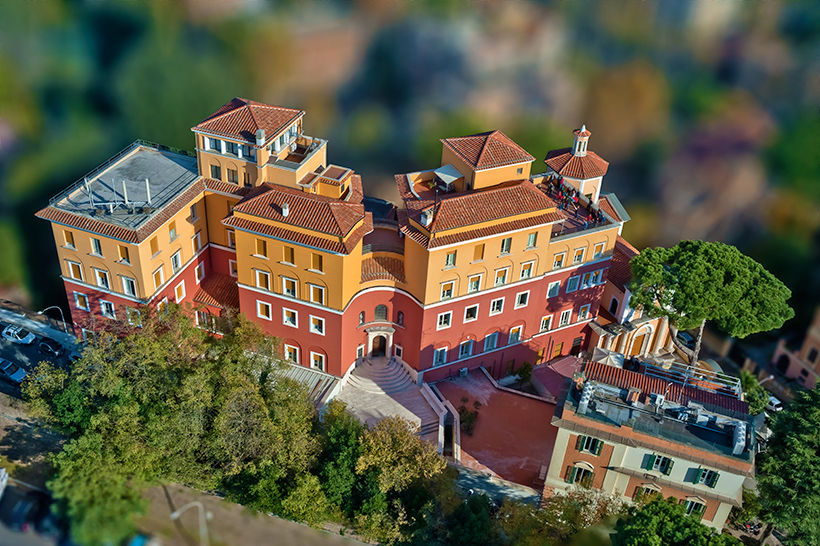 Location
Overlooking the historical center, the university is located on top of the Janiculum, Rome's highest hill. With its own garden of Roman pines, it offers a spectacular view of Rome and the surrounding hills. The campus is near two city parks, Villa Sciarra and Villa Pamphili, and historical landmarks. The area also hosts diplomatic residences and several international academies.
Rome
Rome is a main character in the story of AUR
From its inception as the center of the Roman Empire to the bustling cultural and social melting pot it is today, Rome's history is long and complex with telling remnants of its story scattered about every place you go. The most fascinating aspect of Rome is its standing as a city where ancient and modern weave in and out of each other; it is hard to determine where one era ends and another one begins. Surrounded by historical landmarks, ages-old artwork, diplomatic and international organizations, the Eternal City is one of the major and most important centers of European political and social happenings and is considered to be one of the most strikingly beautiful cities in the world.
Within this living and breathing historical, political, and social landmark known as Rome is a huge, vibrant community of approximately 2.8 million people, almost 10% of which is international. Its population, therefore, is made up of eclectic cultures and a multitude of languages. You can be from anywhere, and you will find your niche to fit in. And while Rome is a large and populous city, it does not have the impersonal feel of a sprawling metropolis: small neighborhoods knit together to form the fabric of the city; you get the remarkable experience of being in a big place while simultaneously enjoying the intimacy of integrating into a community and getting to know the names of the people you see every day, both on and off campus.
Yes, I have finally arrived to this Capital of the World!
I now see all the dreams of my youth coming to life… Only in Rome is it possible to understand Rome.
—Johann Wolfgang von Goethe in Italian Journey